BY JENNIFER HAYMORE

BLOG TOUR
MAY 19-JUNE 6


SYNOPSIS:

CAUGHT BETWEEN DUTY AND DESIRE . . .
Sophie, the Duchess of Calton, has finally moved on. After seven years mourning the loss of her husband, Garrett, at Waterloo, she has married his cousin and heir, Tristan. Sophie gives herself to him body and soul. . . until the day Garrett returns from the Continent, demanding his title, his lands-and his wife.
TORN BETWEEN TWO HUSBANDS . . .
Now Sophie must choose between her first love and her new love, knowing that no matter what, her choice will destroy one of the men she adores. Will it be Garrett, her childhood sweetheart, whose loss nearly destroyed her once already? Or will it be Tristan, beloved friend turned lover, who supported her through the last, dark years and introduced her to a passion she had never known? As her two husbands battle for her heart, Sophie finds herself immersed in a dangerous game-where the stakes are not only love . . . but life and death.
My Tour for A HINT OF WICKED starts today!
This is my introduction of the tour that I hope all of you will participate in. There are many "stops" on the tour. If you have never done this before, it is very easy

You can click on all the TOUR STOPS listed below and enter their Giveaway and then come back to click on the next one. Some Tours don't start today so be sure and check the dates. Bookmark this page and come back each day so you can enter all of them.

Now don't you think that gives LOTS of people LOTS of chances to win this really fantastic, fun read!?!

All Tour Stops will offer different things like "Q&A", Questions and Answers, for author Jennifer Haymore; Author Interviews; Reviews of A HINT OF WICKED;and different games and ways to win.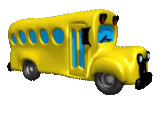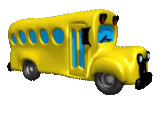 SO, hop on board the BINGO BUS and

let's tour A HINT OF WICKED

by Jennifer Haymore!
All Aboard, because here we go!

BOOKIN' WITH BINGO'S
A HINT OF WICKED
GIVEAWAY

Thank you to Anna at Hachette Book Group for sponsoring this tour. I have 5, yes, FIVE, copies for my Giveaway! And this will be so easy for you to enter...here goes!

PLEASE NOTE: HACHETTE BOOK GROUP
RULES, AS ALWAYS ARE:

Only U.S. and Canadian residents may enter
I apologize for not putting these rules
in the first day's post. (ooops!)


+1 Entry when you Comment with your email address
+1 Entry when you Comment that you are signing up to follow
+2 if you already do follow (that's for loyalty)
GOOD LUCK!

TOUR STOPS:
BOOKIN' WITH BINGO- May 19 intro;May 21 review;May 23 Interview; June 6 Announce Winners
FOREIGN CIRCUS LIBRARY- May 19 review
A JOURNEY OF BOOKS- May 21 Q&A


CHIC BOOK CHICK

- May 22 review and giveaway
FIND THE TIME TO READ- May 26 review and giveaway
READING WITH MONIE- May 26 giveaway


ZENSANITY

- May 26 Q&A


BOOK SOUL MATES

- May 27 giveaway
YANKEE ROMANCE REVIEWERS - May 28 giveaway


DARBY'S CLOSET

- May 28 review
CONFESSIONS OF A ROMANCE BOOK ADDICT- June 1-4 Q&A, review, & giveaway
DREY'S LIBRARY- June 1 giveaway


MORBID ROMANTIC

- June 2 review, giveaway, Q&A
WENDY'S MINDING SPOT- June 3 review and giveaway
PUDGY PENGUIN PERUSALS- June 3 giveaway


THE REVIEW FROM HERE

- June 4 review


THE BOOK GIRL

- June 5 review and giveaway


YOU GOTTA READ REVIEWS

- June 6 review and giveaway


ALL ABOUT N

- giveaway
ALPHA HEROES- review