ABOUT HAPPY TAILS:
Do You Love a Good Story with a Happy Ending?
We do! Happy Tails Books collects thought-provoking stories from people who have participated in dog rescue or dog adoption, and compiles them into books that educate and entertain readers! These books also raise awareness about people working to end animal cruelty and provide a source of funding for dog rescue groups. Do you have a great story to share about your adopted dog? We are collecting stories on purebreds and mixed breeds for our upcoming dog books. Our first book, "Lost Souls: Found! Inspirational Stories of Adopted Boston Terriers" is now available for pre-sale!

ABOUT THE BOOK:
LOST SOULS: FOUND! INSPIRATIONAL STORIES OF ADOPTED BOSTON TERRIERS
"When I came home from work my Boston Terrier Dylan was so overwhelmed with excitement that he would jump up and bite me. To protect myself without killing his enthusiasm I got inventive and shoved a toy in his mouth when I arrived from a bucket I kept outside my door. After a month Dylan began arriving at the door with his own toy in his mouth. On one occasion, I entered the house expecting to find my overly excited Boston with a toy in his mouth and instead he sat there ready to hand me the cordless phone! It turns out it was the only toy he could find. Some may have gotten upset about the slobber on the buttons but knowing how timid he was in the past, I considered it "making progress!"
–

Jami David, Mid America Boston Terrier Rescue
My Review of LOST SOULS FOUND:



In this book, you find over 30 short accounts of people who have a rescued Boston Terrier. Some stories are fun and some serious. Several stories relate the awful thing about "puppy mills" and what happens to dogs there where they are used to breed purebred dogs and then they either die, or are abandoned or worse, once they are no longer of any use to the people who run these awful places. Many of the stories are heartwarming and funny. All in all, the stories give people the idea of how wonderful these little dogs are and how important it is that everyone remembers that there are so many dogs that need to be rescued and adopted.

One of the stories, "Eyes Only For You", tells about how an owner connects with his rescue dog just from the friendly eyes he sees when he meets her. In a sad story with a happy ending "Foster Failure" tells of a dog that nobody wanted and was taken in at a foster puppy home only to find the foster parents fell in love with the dog and wound up adopting him. This family gave a home to the poor dog who had lived such an awful life in a puppy mill. A few pages such as "A Snort Break" give a few sentences telling happy tails or funny moments about different Terriers.

I believe that a book like this would open any one's eyes to the importance of choosing a rescue dog when the opportunity arises. As different books on different breeds are written and read, I imagine even more breeds of dogs will be better off and more dogs adopted. Perhaps you might have a rescue dog story of your own or may want to adopt a rescue dog after reading about these great animals and all they go through.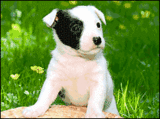 THANK YOU TO KYLA
AND HAPPY TAILS BOOKS
FOR SPONSORING THIS GIVEAWAY!

I HAVE TWO COPIES OF THIS CHARMING
BOOK THAT ANY DOG LOVER ESPECIALLY
WOULD LOVE TO OWN!

TO ENTER:
PLEASE FOLLOW THE RULES!
U. S. RESIDENTS ONLY
NO P.O. BOXES, PLEASE
INCLUDE EMAIL ADDRESS IN COMMENT

COMMENT ON IF YOU HAVE A DOG, WHAT
KIND, AND HOW YOU GOT YOUR DOG OR
WHAT YOU THINK ABOUT DOGS IN GENERAL

PLEASE COMMENT BY 6 PM, EST, AUGUST

2