ABOUT THE BOOK:
Someone had spent time with her -- someone well-practiced in the art of pain... Three years ago former Grant County medical examiner Sara Linton moved to Atlanta hoping to leave her tragic past behind her. Now working as a doctor in Atlanta's Grady Hospital she is starting to piece her life together. But when a severely wounded young woman is brought in to the emergency room, she finds herself drawn back into a world of violence and terror. The woman has been hit by a car but, naked and brutalized, it's clear that she has been the prey of a twisted mind. When Special Agent Will Trent of the Criminal Investigation Team returns to the scene of the accident, he stumbles on a torture chamber buried deep beneath the earth. And this hidden house of horror reveals a ghastly truth - Sara's patient is just the first victim of a sick, sadistic killer. Wrestling the case away from the local police chief, Will and his partner Faith Mitchell find themselves at the center of a grisly murder hunt. And Sara, Will and Faith - each with their own wounds and their own secrets - are the only thing that stands between a madman and his next crime...READ UNDONE TO FIND OUT THE REST!!!



ABOUT THE AUTHOR:



Karin Slaughter is The New York Times bestselling author of eight novels, including BEYOND REACH and A FAINT COLD FEAR, which was named an International Book of the Month selection; she contributed to and edited LIKE A CHARM. She is a native of Georgia, where she currently lives, and is working on her next novel, which Delacorte Press will publish in 2010. Her latest novel is UNDONE, which they published this past July.
ABOUT KARIN SLAUGHTER! In case you missed this, I found this article fun to read about this author. It was in the July 24th Edition of SHELF AWARENESS:
On your nightstand now:
The Spirit of St. Louis
by Charles Lindbergh. Set aside the politics of the man, and you get an amazing story of having the courage and conviction to bring an idea to fruition. This is what America used to be all about--"don't tell me it can't be done!" For 33 hours, Lindbergh sat in a wicker chair bolted inside a metal tube. He didn't have a radio. He didn't have a front window. He had to keep his knees bent the entire time. My last flight out of JFK, the guy beside of me threw a hissy fit when the stewardess told him to bring his seatback upright for landing. I thought I was going to have to slap him.
Favorite book when you were a child:
Everything in the Encyclopedia Brown canon. I wanted to
be
Encyclopedia Brown. Some might argue that has happened.
Your top five authors:
Instead of "of all time" (which would make me stress about trying to sound all literally sophisticated and crap), I'm going to do "right at this moment." Mo Hayder, Denise Mina, Flannery O'Connor (though she's on every list), Mark Billingham and Lee Child.
Book you've faked reading:
Orlando
by Virginia Woolf. I tried to read it in college, and I still have it somewhere but good googlie mooglie, just opening the cover sucks the life right out of you. Why? Why???
Book you're an evangelist for:
Currently
The Help
by Kathryn Stockett, though my lifelong evangelical quest is to get more people to read
Gone With the Wind
. As much as I loved the movie, the book should serve as a bible for authors seeking to tell a good story. Scarlett O'Hara is one of the most engaging and unique women ever created. With all of the hullabaloo, people have forgotten why Mitchell won the Pulitzer Prize in the first place. The book is just amazing.
Book you've bought for the cover:
Bitten
by Kelley Armstrong. Oh, the sexy! And it actually delivered inside, which, sadly, seldom happens.
Book that changed your life:
Flannery O'Connor's
The Complete Stories
. Lord God, to me--a little girl growing up in South Georgia--this was a revelation. Here was a
woman
writing about
violence
and getting away with it! Mercy me.
Favorite line from a book:
"She would of been a good woman if it had been somebody there to shoot her every minute of her life."--Flannery O'Connor's
A Good Man Is Hard to Find
. Perfect.
Book you most want to read again for the first time:
I have a hard time with this because books are defined by where you were in life when you read them. I think of all my experiences--good and bad--in terms of the book I was reading when it happened. That being said, if you put a gun to my head, I'd probably say
The Painted Bird
by Jerzy Kosinski. I read this in high school, and I'm sure I missed most of the import, but I was so struck by the story (true or not) that it took my breath away.
GIVEAWAY

WANT TO BE PART OF THE TOUR
AND WIN A COPY OF UNDONE?
HOP ON THE BUS AND ENTER HERE!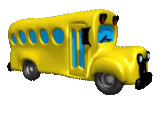 THANKS TO JAIME AT PUMP UP YOUR

BOOK PROMOTION BLOG TOURS, I HAVE

TWO COPIES OF UNDONE TO GIVEAWAY!
RULES:



U.S. RESIDENTS ONLY (SORRY)
NO P. O. BOXES, PLEASE
GIVE YOUR EMAIL ADDRESS
IN YOUR COMMENT

MAKE EVERY COMMENT SEPARATE SO THEY
COUNT AS MORE THAN ONE ENTRY!



HOW TO ENTER:




+1 ENTRY: COMMENT ON SOMETHING YOU READ/FOUND INTERESTING ABOUT AUTHOR, KARIN SLAUGHTER

+1 MORE ENTRY: FOLLOWERS OF MY BLOG OR WHO JOIN THERE IN LEFT HAND COLUMN, LET ME KNOW

+1 MORE ENTRY: BLOG OR TWEET ABOUT THIS GIVEAWAY AND COME BACK WITH LINK

+1 MORE ENTRY: TELL ME IF YOU ARE TAKING PART IN THE BBAW AWARDS PROGRAM AS I'D LOVE FOR EVERYONE TO VOTE AND HAVE FUN THAT WEEK OF SEPTEMBER 14-18


ALL ENTRIES ARE DUE BY
6PM, EST, ON SEPTEMBER 3

WATCH FOR MY REVIEW IN A FEW
DAYS AS THERE WILL BE A CHANCE
FOR MORE ENTRIES!