GIVEAWAY HAS ENDED


SIMON'S CAT
BY SIMON TOFIELD


Simon Tofield's animations have taken YouTube by storm. Now, the feline Internet phenomenon makes his way onto the page in this first-ever book based on the popular animated series. SIMON'S CAT depicts and exaggerates the hilarious relationship between a man and his cat. The daily escapades of this adorable pet, which always involve demanding more food, and his exasperated but doting owner come to life through Tofield's charming and hilarious illustrations.
WATCH THIS IF YOU DON'T BELIEVE IT!
ABOUT THE AUTHOR: (from the official Simon Tofield website)

Who is Simon Tofield?
Simon is an English animator who has a great interest in British wildlife, painting, the great outdoors and of course cats.
Does Simon have a cat in real life?
He has three cats - Hugh, Maisie and Jess.

Why does it take so long to make each Simon's Cat film?
Simon draws all of the Simon's Cat films himself. This can require up to 25 drawings per second of animation.

What software is used to make the Simon's Cat films?
Adobe Flash. Simon draws on an A4-size Wacom Intuos 3 pen and tablet.

When will the Simon's Cat shop open again?
The shop has closed temporarily because Simon has been busy finishing the book and the fourth film. It will reopen later this year.

Who is 'Shrooty'?
He's the talented sound designer who works on the films with Simon. If you're interested in hearing more of Shrooty's work you can visit his website by clicking here.

Do Simon's real life cats provide the character sounds for the films?
Actually Simon makes all the character sounds in the films himself, including the meows!
THE GIVEAWAY
THANKS TO ANNA AND THE

HACHETTE BOOK GROUP, I HAVE

5 COPIES OF THIS HILARIOUS AND

WONDERFUL COFFEE TABLE BOOK

TO GIVE AWAY!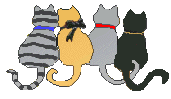 RULES:
--U. S. AND CANADIAN RESIDENTS ONLY
--NO P. O. BOXES, PLEASE
--INCLUDE EMAIL IN YOUR COMMENT
--ALL COMMENTS MUST BE SEPARATE TO
COUNT AS MORE THAN ONE ENTRY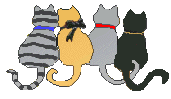 HOW TO ENTER:

+1 ENTRY: COMMENT AND TELL IF YOU HAVE A CAT AND IF SO, TELL WHAT YOUR KITTY'S NAME IS

+1 MORE ENTRY: FOLLOW MY BLOG AND TELL WHERE YOU DO

+1 MORE ENTRY: BLOG OR TWEET ABOUT THIS GIVEAWAY AND COME BACK HERE WITH A LINK

+1 MORE ENTRY: READ MY REVIEW WHEN IT COMES OUT AND LINK BACK HERE TO TELL ME SOMETHING YOU FOUND INTERESTING ABOUT IT, OR NOT SO INTERESTING--EITHER IS FINE, NO HARD FEELINGS!