DRACULA
THE UN-DEAD
BY DACRE STOKER
AND IAN HOLT

MY REVIEW:


I found it fascinating and exciting that the great-grandnephew of Bram Stoker wrote this book. Bram Stoker's BLOOD actually runs in his veins! Along with Ian Holt, this vampire book allowed us all to meet again the original characters some 25 years after they battled Dracula at Carpathia. Jonathan and Mina Harker, Dr. Jack Seward, Dr. Abraham Van Helsing, and Arthur Holmwood are back and accounted for. I would imagine this helped some people who may have never read the original book.
Dr. Seward has become a drug addict, living a pitiful life in a small rooming house in London. Most think he is insane while he still thinks the murders that are happening are being done by Dracula because Seward thinks he has risen from his grave.
We go on to find out that all these people have had hard lives with bad things happening to them. Harker's marriage to his much loved Mina is a wreck and Quincy, his son, won't listen to his father. Mina, meanwhile has barely aged since she battled Dracula and that part is the main thing to drive Jonathan to drink when he thinks of this.
Abraham Van Helsing is old and frail but he also will not give up his fight against Dracula while Arthur Holmwood will have nothing to do with this original group of Dracula believers. Holmwood tries to pretend nothing happened in his past and tries to live among the rich while he waits really for death so he can be reunited with his fiancee,Lucy.

Seward and Harker are soon dead and the inspector investigating the case, brings in an old friend for questioning. He threatens Mina, for information. He strongly believes the murders are by the hand of Jack the Ripper and not Dracula. All are unaware that a new villain is now in action....one who actually helps Dracula without anyone know it.

The authors used Stoker's original notes for this book. While there doesn't seem to be as much in-depth character development in DRACULA, THE UN-DEAD, there is plenty of action complete with twists and turns to keep your interest. It is a fast read and one that almost make you feel sorry for Dracula. You learn a lot about him and his reason for doing things, while the real villain appears to be Bathory who is cruel and very smart so his very evil character makes Dracula look even better. I enjoyed the book because it was exciting and moved along quickly. If you are a student of the original story you may find and question parts of it but I myself enjoyed it for itself as a stand alone novel...and with my lack of minute details in Dracula's background was able to enjoy DRACULA, THE UN-DEAD...especially as I finished reading it on Halloween!

GIVEAWAY WINNERS
THANKS TO JAMIE AT THE
PENGUIN PUBLISHING GROUP,
I HAVE TWO BRAND NEW HARDBACK

COPIES OF THE JUST RELEASED

DRACULA, THE UN-DEAD

TO GIVE AWAY!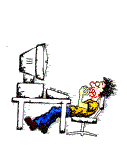 ALL WINNERS HAVE BEEN
NOTIFIED VIA EMAIL AND
HAVE UNTIL NOON, ON
MONDAY, NOVEMBER 2,
TO SEND ME THEIR INFO!

THE WINNERS ARE:



#32 GMR

#64 lag123



CONGRATULATIONS!
^^^^^^^^^^^^^^^^^^^^^^^