"ABOUT BELIEVING
BUNDLE SYMBOL"

YOUR ASTROLOGY
GUIDE 2010
BY RICK LEVINE
AND JEFF JAWER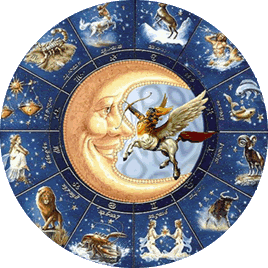 ABOUT THE BOOK:
What does 2010 hold for you?
The world's most accurate astrology team shows you how to apply astrology's ancient wisdom to reveal the turns in the road of life and describe the best ways to navigate everyday situations. Rick Levine and Jeff Jawer go beyond just predicting events -- they also report on the "cosmic weather" so that you can understand planetary events and energies, and learn how to use them effectively in order to enrich your life.

Rick and Jeff look closely at what 2010 holds in store for each of the 12 signs to help you gain a true perspective on your world -- and a deeper knowledge of yourself and your loved ones, friends, and colleagues. They provide the tools that make it easy for you to keep track of what will be happening during the year including:
Forecasts for 2010 that tell you what to really expect and how to deal with the core areas of your life -- love, career, money, health, home, and personal and spiritual growth
Concise forecasts for August to December 2009 containing a summary and mini calendar for each month
Unique, in-depth, month-at-a-glance "calendars" of the major astrological events for your sign, with Key Dates and high-energy Super Nova Days
Big picture tips for each sign -- for the year and every month
ABOUT THE AUTHORS:

Highly-respected astrologers, sought-after consultants, and frequent lecturers,
Rick Levine
and
Jeff Jawer
have each written countless magazine articles, authored several books, and have been featured on radio and TV programs throughout the United States and Europe.

Rick Levine, co-author of Your Astrology Guide 2010, writes Tarot.com's daily horoscopes, which can be seen on AOL.com and many other Web sites. He is the founding trustee of the Kepler College for Astrological Arts and Sciences, a four-year educational institution in Seattle, WA, where he lives.
Jeff Jawer, co-author of Your Astrology Guide 2010, writes weekly romance horoscopes for Tarot.com and AOL.com and was a longtime columnist for cosmogirl.com. He is a co-founder of the Association for Astrological Networking and the United Astrology Congress. He lives in Redmond, WA.
REVIEW:
Lavine and Jawer are two of the busiest, most knowledgeable men in their field. As you see in the video above, they even involved in reading the currents of time; in this case, November. Their book is filled with easy to use details for each and every astrological sign. The calendars for each month are detailed and gives the reader must to read and think about. The book is an easy way to see what lies ahead for all of this next year of 2010. Whether you are deeply involved or just a casual observer interested in what each day or month might bring, this is a book you will enjoy. It covers areas of love (of course), money, work, health, as well as what lies ahead for you personally. I found the book easy to navigate through and one you could look at and come back to and not have to read all the way through, thus being a good year long resource and I think would make a good gift for a casual or more intense follower.
GIVEAWAY
THANKS TO ALL MY FRIENDS AT
FSB ASSOCIATES,
THIS IS ONE OF THE BUNDLE
OF THREE
BOOKS THAT
WILL BE A GOOD START
TO A
NEW YEAR THAT WILL MAKE

YOU THINK AND/OR BELIEVE!
RULES:
--U.S. Residents Only

--No P.O. Boxes, Please

--Email address must be in your comment

--ALL comments must be separate to count
or
they will count as one instead of possibly two.
--All readers must enter ALL THREE giveaways and
then you will be eligible to win the prize of all
three books!...one winner!


HOW TO ENTER:
+1 ENTRY: COMMENT ON JEFF JAWER'S ASTROLOGY BLOG BY GOING HERE.
+1 MORE ENTRY: COMMENT AND TELL WHAT YOUR ASTROLOGICAL SIGN IS AND IF YOU READ IT DAILY OR REALLY DON'T PAY MUCH ATTENTION TO IT.

DEADLINE TO ENTER IS
6 PM, EST, DECEMBER 18