SOOKIE STACKHOUSE:


THE COMPLETE STORIES

A TOUCH OF DEAD
by CHARLAINE HARRIS

Thanks to Kaitlyn at Penguin
Publishing, I have one copy
of this fun book to give away.

I was

VERY

careful with my
review copy so the winner is
getting my virtually brand
new hard back edition...

If you weren't the winner, remember
you can read my review here and
you may want to pick up a copy
for your holiday needs as it is...

A BINGLE

BELLS

BOOK

CHOICE
THE WINNER HAS BEEN
NOTIFIED BY EMAIL AND HAS UNTIL
NOON ON TUESDAY, NOVEMBER 17 TO
SEND ME THEIR INFO FOR THEIR BOOK

PLEASE


BE CAREFUL WHEN ENTERING YOUR

EMAIL ADDRESS. MY LAST TWO CONTESTS

HAVE HAD TWO WINNER NOTIFICATIONS

RETURNED AS NO SUCH EMAIL ADDRESS!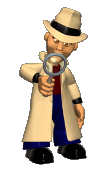 I WAS ABLE TO PUT ON MY NANCY DREW

CAP AND FIGURE OUT ONE WAS MISSPELLED

AND FOUND THE WINNER AND TIME WAS

JUST ABOUT UP.



THE ONE FROM TODAY THAT I HAVEN'T

HEARD FROM HAS UNTIL MONDAY
AT NOON OR THEY MAY NOT GET

TO DESIRE A DEVIL
SO NOW,
AS YOU WAITED PATIENTLY
THE WINNER OF



A TOUCH OF DEAD

IS.....





#39 PW



CONGRATULATIONS!