BUCKLEY'S STORY
BY INGRID KING
ABOUT THE BOOK:
Buckley's Story
is the story of how one small cat changed the author's life in ways she never could have imagined. In this warm-hearted memoir, Ingrid King shares the story of Buckley, a joyful, enthusiastic and affectionate tortoiseshell cat she meets while managing a veterinary hospital. When Ingrid leaves her job at the veterinary hospital to start her own business, Buckley comes home to live with her and Amber, another tortoiseshell cat who had adopted the author several years earlier.
Buckley is diagnosed with heart disease after only two years of living with Ingrid, and caring for Buckley through her illness only deepens the bond between cat and human. Interspersed with well-researched information about cat health in general, and heart disease in particular, the author describes the challenges and rewards of managing illness in a feline companion, and ultimately helping her through the final transition. Ingrid shares both the day-to-day joys of living with a special cat as well as the profound grief that comes with losing a beloved animal companion.
Buckley's Story is a celebration of the soul connection between animals and humans, a connection that is eternal and transcends the physical dimension.

ABOUT THE AUTHOR AND INTERVIEW:

WELCOME INGRID KING TO MY BLOG. INGRID WAS KIND ENOUGH TO GIVE US A LITTLE BACKGROUND ABOUT HERSELF AND THEN ANSWER A FEW QUESTIONS....ALL THIS AND A WONDERFUL BOOK AS WELL. THANK YOU, INGRID, AND ENJOY BINGO READERS!
I'm a former veterinary hospital manager turned writer. I write and publish the online magazine
News for You and Your Pet
, covering
topics ranging from conscious living to holistic and alternative health. I share my
experiences with consciously creating a joyful, happy and healthy life for pets and people on my popular blog,
The Conscious Cat.
I live in Northern Virginia with my tortoiseshell cat Amber. For more information about me, please visit my website at
www.ingridking.com
What have you just finished reading?
Animal Magnetism by Rita Mae Brown. In this first memoir since Rita Will – Memoir of a Literary Rabble Rouser, the author shares stories about the animals who have graced her life and the lessons they have taught her.
What books would you say have made the biggest impression on you, especially starting out?
Gosh, there are so many, it's hard to narrow it down to just a few! There are two that stick out for me. I remember reading Changing by Liv Ullman in my teens, and it left a profound impression on me at the time. Even now, reading some of the notes I wrote in the margins, I can see how this book would have impacted a young girl going through changes that were happening faster than she could keep up with at the time. One of the first animal themed books that touched me deeply was Samantha Mooney's A Snowflake in My Hands. The book started my love affair with veterinary medicine, which ultimately led to twelve happy years working in various facets of the profession.
What gets you started on a new book? A character or story idea or….?
Buckley's Story is my first book, and it was most definitely Buckley's huge spirit and even bigger heart that provided the inspiration. For my article and blog post writing, inspiration can come from anywhere – a conversation with a friend, a story I come across online, a book I read, something I see on television.
What is something about you that you would want people to know about you that we probably don't know?
I love to walk. It's the one exercise I've stuck with consistently for most of my life. I love the combination of exercise and contemplation. Some of my best ideas for articles come to me on my walks. During the writing of Buckley's Story, there were times when I got stuck on a certain scene, and, rather than staring at the screen, trying to rewrite it over and over again, I'd go for a walk to clear my head. Nine times out of ten, the scene would write itself when I got back to the computer.
What is your best advice to anyone, including young people, who want to be writers?
Just write. Don't worry about what anyone else thinks about what you're writing. Tell your story, and leave the polishing and fine-tuning for later. If you're looking to get published, do your research. There are so many different ways to get published now, and it really depends on your individual goals as to which direction you're going to choose for your publishing journey. Contact other writers and ask if they'd be willing to share their experiences.
What is something you would like to share with us about writing your favorite genre in general?
When I set out to write Buckley's Story, I didn't realize how much her story was also my story. I realized that unless I shared some very personal things about myself, her story would not have the impact I wanted it to have. I'm a very private person, so I had to work through that aspect of writing the book. I realized that there would be three distinct groups among my future readers: my friends, complete strangers, and that in between layer of clients, work friends, and acquaintances. I was fine with my friends reading the story – they already knew it. Interestingly enough, I didn't mind the thought of complete strangers reading the story, either. It was that in between layer that I had to work through. Casual acquaintances, clients, and business contacts would get to know me on a much deeper level than I might have been comfortable with. In the end, sharing my story with that group actually deepened some of these relationships and turned them into real friendships, so in yet another way, my little cat still keeps on changing my life!
GIVEAWAY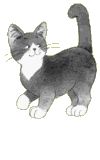 THANKS TO PUMP UP YOUR BOOK

PROMOTIONS FOR A COPY OF

INGRID'S BOOK


BUCKLEY'S STORY
I HAVE ONE COPY OF THIS AMAZINGLY
TOLD STORY TO GIVE AWAY TO A
LUCKY READER. WILL IT BE YOU?
YOU HOPE SO AS INGRID KING WILL
PERSONALLY AUTOGRAPH IT AND
SEND IT TO YOU!

RULES!

--U.S. RESIDENTS ONLY

--NO P. O. BOXES PLEASE
--EMAIL ADDRESS MUST BE INCLUDED
IN YOUR ENTRY
--ALL ENTRIES MUST BE SEPARATE OR
ELSE THEY COUNT ONLY AS ONE!