GIVEAWAY ENDED


LET IT BLEED
The Rolling Stones, Altamont,
and the End of the Sixties
by ETHAN A. RUSSELL


ABOUT THE BOOK:
LET IT BLEED takes you where no Rolling Stones book has before. Author and photographer Ethan Russell was one of only sixteen people--including the Rolling Stones--who made up the 1969 tour. He was with them in their hotel rooms, at rehearsals, and on stage. He tells the story of this monumental and historic tour firsthand, including recollections from band members, crew, security, and other sixties icons--like Abbie Hoffman and Little Richard--they met along the way. And he also includes amazing photos of the performers who toured with the Stones that year: the legendary Tina Turner and B. B. King.
Through vivid quotes taken from his interviews with the band and crew, and through more than 220 revealing photographs, Russell takes you behind the scenes for an uncensored look inside the Rolling Stones' world at the end of the sixties. It was an idealistic time, with an overarching belief that music could bring us all together. But the events that led to the terrible violence and stabbing death at Altamont would change rock and roll forever.
ABOUT THE AUTHOR:
Ethan Russell is a multi-Grammy nominated photographer and director. He is the only photographer to have shot album covers of The Beatles, The Rolling Stones, and The Who. Ethan produced music videos with Emmylou Harris, Joni Mitchell, Paul Simon, kd lang, Rosanne Cash, Hank Williams, Jr. and Randy Travis, among others. He is also an award winning creative director and the author of Dear Mr. Fantasy (Houghton Mifflin 1985).
REVIEW:
For myself, who is a "child of the 60's", this brought back so many memories. I am not even a huge Rolling Stone fan but loved the book. It is an amazing look at the Stones 1969 tour, documented by photographer, Ethan Russell. Having traveled with them and been there, the reader gets to see behind the scenes photographs and read interviews that most have never seen or read before. Going backstage with the band, you see the frenetic as well as the professional side of what they did...and still do! You feel like you were there upon reading and viewing these emotional interviews and pictures.

The concert on December 6, 1969, in northern California at the Altamont Speedway is brought back in stark reality of went on that night through these pictures and first hand descriptions. I remember seeing it first hand on television reports but for those too young to have seen this, the book will let you understand the impact of this event. Having hoped for another Woodstock, what everyone, especially the Stones, got was a tragedy. With the Rolling Stones finishing the concert that had the fans in a frenzy as they were following some phenomenally famous groups already up, they never expected the violence that would occur and the fatal stabbing as everything broke loose. Over 300,000 had hoped for a California Dreaming type peace and wound up instead with a concert that is now simply known as the infamous Altamont. The photographs are real and intense, and many personal. This is a coffee table book that will definitely start a conversation going no matter who is there or their age.

GIVEAWAY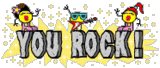 THANKS TO KELLY AND THE
HACHETTE BOOK GROUP, I
HAVE FIVE COPIES OF THIS
AMAZING BOOK TO GIVEAWAY!

THE RULES:
--U.S. AND CANADIAN RESIDENTS ONLY

--NO P. O. BOXES, PLEASE

--INCLUDE EMAIL ADDRESS IN COMMENT
--ALL ENTRIES/COMMENTS MUST BE
SEPARATE IN ORDER TO COUNT
AS MORE THAN ONE ENTRY

HOW TO ENTER:
+1 ENTRY:
COMMENT ON YOUR THOUGHTS OR PERHAPS MEMORIES OF THIS EVENT OR THE ROLLING STONES AND THEIR KIND OF MUSIC



+1 MORE ENTRY:
TELL ME ABOUT ONE OTHER GIVEAWAY THAT IS STILL GOING ON HERE AT BOOKIN' WITH BINGO THAT YOU HAVE ENTERED. IF YOU HAVEN'T, GO ENTER SOME, AND YOU CAN COME BACK. LOTS OF GOOD STUFF TO TRY FOR!
+1 MORE ENTRY:
TELL ME IF YOU FOLLOW MY BLOG AND HOW. I HOPE YOU FOUND IN THE LEFT COLUMN THAT I HAVE ADDED A WAY SO YOU CAN SUBSCRIBE VIA EMAIL NOW! (I HOPE!) LOTS OF YOU WERE ASKING, SO YOU MAY WANT TO TRY IT!
+1 MORE ENTRY:
BLOG OR TWEET ABOUT THIS GIVEAWAY AND LEAVE A LINK I CAN FOLLOW IN THE ENTRY
GIVEAWAY ENDS AT
6 PM, EST, DECEMBER 31
GOOD LUCK!