DO YOU LOVE YOUR BLOG AND/OR
WORKING ON THE COMPUTER?
BUT...

DO YOU OFTEN FEEL LIKE THIS?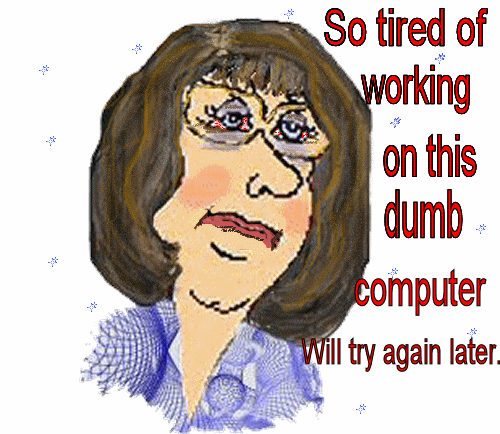 WITH NO HELP, IS THIS YOU?

BEFORE YOU RESORT TO THIS....

I HAVE THE ANSWER FOR YOU!
This is a group of young men that are friends of my son. They all, like my son, have computer degrees. I know these young people and they have started a business to help those of us who know some, or nothing, about computers. Do you often ask "WHERE DID THAT FILE GO?" or "HOW DO PEOPLE GET THAT TITLE LARGER? or "I WISH I COULD DO THAT ON MY COMPUTER BUT WOULDN'T KNOW WHERE TO START?"
I asked "Computer Support Buddy" if I could share their PILOT PROGRAM with my readers and they were happy to. So if you would like a LIVE PERSON to be able to call and get information and help with your computer woes, you may want to read this and sign up for the PILOT PROGRAM. There is no cost or obligation. I signed up...and sharing some good news with you!
P.S. I have no stake in this company and don't get payment in any way. I just wanted to share this with you all so you can look more like this from now on!

For folks who didn't grow up around computers, learning about new technology can be like learning a foreign language - and one that's constantly and rapidly changing! For some, it can be more frustrating than it is rewarding.
That's why we developed: Computer Support Buddy
Computer Support Buddy is a telephone/internet based service designed to:
Offer Support and Guidance Patiently: "I've been working on a document for the last two hours and now I can't find it!!!"
Answer Those Small Questions: "What does this pop-up window mean? Do I need to take any action?"
Educate: Offer one-on-one education sessions on a variety of topics that would appeal to both novice and intermediate computer users (From "Internet Basics" to "Getting on Facebook")
Form Relationships: By offering contact with the same team member repeatedly, we strive to make your family feel like part of ours. This relationship building provides additional comfort to allow folks to call us over any issue no matter how small.
Let us help your family and friends get more comfortable and confident with technology - at their own speed.
We are preparing to launch a FREE pilot version of this service within the next 30 days and are looking for participants.
Our ideal candidates didn't grow up using a computer - but use one now, and have high speed internet access in their home.

Our services can be useful to both novice and intermediate computer users.
For everyone who gives it a try, the pilot program is completely free and there are no obligations to continue the service when the pilot is complete.
Participants will NOT be automatically enrolled when the pilot is complete
Participants will NOT be charged any fees
Participants will be eligible for member discounts after the pilot as a thanks for participating
(And NO information about participants will be shared with third parties)
Click on this PILOT PROGRAM link to register TODAY!

If you have any family, friends, or neighbors that you think would benefit from this service CLICK HERE to send us their contact information. We will send them an invitation to be part of the pilot program.