DO YOU KNOW WHAT THE FUSS IS ALL ABOUT? SEASON 2 BEGAN LAST NIGHT ON ABC!
When UFOs place themselves over major cities around the world the alien Visitors, led by charismatic Anna (Morena Baccarin) claim to come in peace, providing humanity with medical miracles and technological breakthroughs. Different characters (Joel Gretsch from
The 4400
, Elizabeth Mitchell
from Lost) become suspicious of the 'V's (visitors) real intentions and try to investigate what is really going on before it is too late so they can claim Victory (V)!
Based on the original 1980s miniseries about alien lizards visiting Earth, this ABC sci-fi project is the brainchild of The 4400 co-creator/exec producer Scott Peters.
BUT, before this came the original series and now YOU can win a copy of THE ORIGINAL V SERIES....
… More
SYNOPSIS-ABOUT THE DVD SERIES:
They came for water. And for food. And as it turned out, we were the food. But humanity bravely resisted - a struggle seen in the hit miniseries V and V: The Final Battle.
Yet the war continues. The heroic conflict comes to a surprising outcome in V: The Series.
Once again, Earth is the main battleground. But now the aliens whose human disguise hides their true reptilian natures are wiser. They believe the secret to their survival on Earth lies in the DNA of the newly born half-human, half-spaceling Starchild. They intend to capture her.
But that's something the world's Resistance Fighters cannot allow.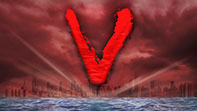 DVD PRODUCT DESCRIPTION:
Studio: Warner Bros.
Screen Aspect: 4 X 3 FULL FRAME
Run Time: 897 minutes
Episodes Info :

Disc 1:
SIDE A: Liberation Day; Dreadnought; Breakout; The Deception
SIDE B: The Sanction; Visitors' Choice; The Overlord


Disc 2:
SIDE A: The Dissident; Reflections in Terror; The Conversion
SIDE B: The Hero; The Betrayal; The Rescue

Disc 3:
SIDE A: The Champion; The Wildcats; The Littlest Dragon
SIDE B: War of Illusions; The Secret Underground; The Return




Subtitle Languages:

English

French

Spanish

Copyright:

TM & (c) Warner Bros. Entertainment Inc.




A LITTLE ALIEN FRIEND OF MINE

IS ALLOWING ME TO GIVE AWAY ONE

COMPLETE DVD PACKAGE OF THE FIRST

ORIGINAL SERIES FOR ONE LUCKY WINNER

--U.S. RESIDENTS ONLY




--NO P. O. BOXES




---INCLUDE YOUR EMAIL ADDRESS




IN CASE YOU WIN!




--ALL COMMENTS

MUST BE SEPARATE

TO




COUNT AS MORE THAN ONE!




+1 ENTRY:

COMMENT ON WHAT YOU READ ABOVE AND TELL WHY YOU WOULD LIKE TO WIN THIS DVD SERIES




+1 MORE ENTRY:

BLOG OR TWEET ABOUT THIS GIVEAWAY AND COME BACK AND LEAVE A LINK THAT I CAN FOLLOW




+1 MORE ENTRY:

COMMENT ON YOUR FAVORITE SCIENCE FICTION BOOK OR MOVIE. IF YOU DON'T HAVE ONE, EXPLAIN WHY.




+1 (or +?) MORE ENTRIES:

COMMENT IF YOU ENTERED FOR ANY OF THE OTHER CURRENT GIVEAWAYS. IF YOU DID, PLEASE COMMENT SEPARATELY ON EACH ONE YOU HAVE ENTERED.




GOOD LUCK!