A hard-hitting, critically acclaimed trilogy of crime novels from an author about whom New York magazine has written, "What people say about Cormac McCarthy … goes double for Woodrell. Possibly more."

In the parish of St. Bruno, sex is easy, corruption festers, and double-dealing is a way of life. Rene Shade is an uncompromising detective swimming in a sea of filth.

As Shade takes on hit men, porn kings, a gang of ex-cons, and the ghosts of his own checkered past, Woodrell's three seminal novels pit long-entrenched criminals against the hard line of the law, brother against brother, and two vastly different sons against a long-absent father.

The Bayou Trilogy highlights the origins of a one-of-a-kind author, a writer who for over two decades has created an indelible representation of the shadows of the rural American experience and has steadily built a devoted following among crime fiction aficionados and esteemed literary critics alike.
PRAISE FOR THE BAYOU TRILOGY:
"Old fans and new readers alike out to be grateful….The novels showcase Woodrell's evolution as a writer … Woodrell's The Bayou Trilogy supplies all the pleasure of hard-boiled noir: laconic cynicism, casually colorful characters (a diner owner, for instance, is described as having 'slightly more than a basic issue of a nose') and a hero whose feet of clay make his dedication to law and order all the more admirable."
-Chicago Tribune

"Really cool . . . Jump on these three top-shelf books."
-Library Journal

"There's poetry in Woodrell's mayhem, each novel-and scene-full of gritty and memorable Cajun details."
-Publishers Weekly, starred review

"The Bayou Trilogy is more than a landmark of crime fiction; it is an impressive and important addition to American letters. Bravo, Daniel Woodrell, and long live Rene Shade."
Daniel Woodrell lives in West Plains, Mo. "The Bayou Trilogy" was released this year. He's also the author of "Winter's Bone," "Tomato Red" and other "country noir" books. (The author said a few years ago that he was tired of the term "country noir," but it still follows him.)
The Associated Press said "The Bayou Trilogy" was one of the books the president paid for at Bunch of Grapes bookstore, where last year he picked up an early copy of Jonathan Franzen's long-awaited novel "Freedom."
Woodrell spent much of his youth in St. Charles. Franzen graduated from Webster Groves High School.
Five of Daniel Woodrell's eight novels were selected as New York Times Notable Books of the Year. A recipient of the PEN West Award, Woodrell lives in the Ozarks near the Arkansas line with his wife, Katie Estill.
ABOUT THIS GIVEAWAY CHOICE:
TAKEN FROM SHELF AWARENESS PRO, FRIDAY, AUGUST 26 - FROM THEIR ARTICLE "CONQUERING OUR NATIONAL FEAR OF FICTION" by Robert Gray
"I hope President Obama is enjoying his summer reads, especially those novels he brought to Martha's Vineyard (Abraham Verghese's Cutting for Stone and David Grossman's To the End of the Land) and bought at Bunch of Grapes Bookstore (Daniel Woodrell's Bayou Trilogy, Emma Donoghue's Room and Ward Just's Rodin's Debutante)."

"Not everyone was pleased with his choices. Salon's Robin Black asked, "President Obama: Why don't you read more women?" The National Review's Tevi Troy observed that the selections "may constitute the oddest assortment of presidential reading material ever disclosed, for a number of reasons. First, five of the six are novels, and the near-absence of nonfiction sends the wrong message for any president, because it sets him up for the charge that he is out of touch with reality."
.
...
Gray goes on to say later in the article: "
Well, everybody, it's time to exhale. Fiction will not hasten the decline and fall of the American Empire. A Congressional inquiry into the president's reading habits isn't necessary. Novels are neither a sedative nor a terrorist plot. They are stories about how we have lived, live now and may live in the future, offering perspectives a few more politicians and pundits might consider exploring."

"We've been telling each other stories--formally and informally--for a long time in mashups of categorical uncertainty. Homer chronicled some history. Herodotus recorded some fiction. Writers of "nonfiction" are often debunked; novels that are barely disguised memoirs are commonplace. Fiction is not all make-believe; nonfiction is not the same as truth. But we can learn from all of these variations what it means to be human."
"Fear of fiction is a common psychological ailment that is more prevalent among male readers, for some reason. Perhaps there's no cure for this phobia, but a reality check might be in order, especially among those sufferers who, as has happened with President Obama's instant literary critics, act out their issues in public."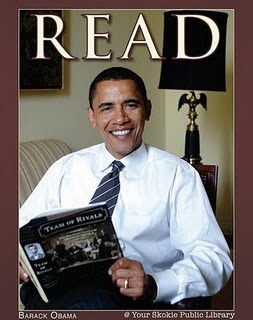 "Consider this: Within days of Obama's Fictiongate crisis, Keith Oatley, professor emeritus in the department of human development and applied psychology at the University of Toronto, unveiled the results of a psychology of fiction study that found narrative helps people think for themselves."

"The National Post reported that Oatley and Maja Djikic "put together a study to measure how personalities can be changed by literature. Participants were given either Anton Chekhov's story 'The Lady with the Little Dog' or a version of the story rewritten in a nonfiction style by Djikic, which included all the same information, was the same length and at the same reading level. Participants did personality tests before and after reading."

"According to Oatley, "people who read the Chekhov story, their personalities all changed a bit.... With things like persuasion, as in a political message, everybody's all supposed to think the same way, and they do. The reason we're very excited by this result is that people all changed in their own way."
"In reaction to the study, Raymond Mar, assistant professor of psychology at York University, said, "There are similar cognitive processes associated with understanding the real world and understanding the fictional world, so when we try to understand what's going on in a piece of fiction--reading a book and trying to figure out what characters are thinking and feeling--it's analogous to people trying to figure out how real people are thinking and feeling."

"Engaging with characters builds character."
....and this is what caught my eye and had me choose THE BAYOU TRILOGY that President Obama bought to give away on my book blog. It is all new from Mulholland books and I know they must be happy to see people reading their book. I hope the winner enjoys it! Good luck!
I HAVE ONE COPY OF THIS NEW BOOK
TO GIVE AWAY TO ONE LUCKY READER!
-

-U.S. RESIDENTS ONLY

--NO P. O. BOXES
---INCLUDE YOUR EMAIL ADDRESS
IN CASE YOU WIN!
--ALL COMMENTS

MUST BE SEPARATE

TO
COUNT AS MORE THAN ONE

!

HOW TO ENTER:
+1 ENTRY:
COMMENT ON WHAT YOU THOUGHT ABOUT WHAT YOU READ ABOVE ABOUT THE BAYOU TRILOGY THAT MADE YOU WANT TO READ THIS BOOK, AND DON'T FORGET YOUR EMAIL ADDRESS
+1 MORE ENTRY:
COMMENT ON SOMETHING YOU FIND INTERESTING ABOUT THE BAYOU TRILOGY AND THE EXCERPTS FROM MULLHOLLAND'S WEBSITE
HERE
+1 MORE ENTRY:
BLOG AND/OR TWEET ABOUT THIS GIVEAWAY AND COME BACK HERE AND LEAVE ME YOUR LINK, PLEASE
+1 MORE ENTRY:
COMMENT ON ONE WAY THAT YOU FOLLOW MY BLOG. IF YOU FOLLOW MORE THAN ONE WAY, COMMENT ON EACH WAY SEPARATELY.
GIVEAWAY ENDS AT
6 PM, EST, SEPTEMBER 25