GIVEAWAY ENDED
PINEAPPLE GRENADE
BY TIM DORSEY
ABOUT THE BOOK:
Miami has always set the weirdness bar, but Serge Storms is back in action and ready to pole vault over it.
First, there's the media frenzy over the "Hollow Man," a gutless corpse found on the beach. And yet people think it's perfectly normal to find dead sharks in the middle of downtown boulevards—or to spot black mushroom clouds behind the airport. Then there are the roving bands of carjackers who suddenly find themselves inconvenienced. Not to mention people lurking outside sex-addiction meetings.
Could this be the work of Serge, that eccentric trivialista and one-man vigilante? And why is he extensively photographing foreign consulates right before the critically important Summit of the Americas comes to town? Does it have something to do with Serge's declaration to tell his ever-stoned sidekick, Coleman, that he's decided to become a spy? Of course he's not working for anyone yet, so Serge is content to just spy for himself until he shows up on radar and his talents are appreciated. His ace in the hole? Serge's newly revamped Secret Master Plan! His spider senses tell him something big is about to go down in Miami, and it just might involve the recently reactivated CIA cell operating in the same historic building that plotted the overthrow of Fidel Castro.
The intelligence community isn't amused, and they want answers:
How did Serge and Coleman get so cozy with the president of a banana republic?
Who is the femme fatale with a heart of gold—and national pride?
Why is the congressman in favor of the latest oil spill?
When did everyone in the city forget how to drive?
And what about the Most Laid Man in Miami?
Meanwhile, a mysterious international man of intrigue is shipping military arms around the clock, in competition with clandestine flights of souvenirs, causing the office of Homeland Security to take measures against people who aren't scared enough. The crossfire of chaos continues to escalate as Serge plays Extreme Dominos in Little Havana, hurtling everyone toward a fateful climax that seems destined for the hemispheric summit jamboree on the shores of Biscayne Bay.
So put on your favorite pink flamingo shirt, hit the dunes of South Beach, and find all the answers in . . . Pineapple Grenade!
ABOUT THE AUTHOR:
Tim Dorsey was born in Indiana, moved to Florida at the age of one, and grew up in a small town about an hour north of Miami called Riviera Beach. He graduated from Auburn University in 1983. While at Auburn, he was editor of the student newspaper, The Plainsman.
From 1983 to 1987, he was a police and courts reporter for The Alabama Journal, the now-defunct evening newspaper in Montgomery. He joined The Tampa Tribune in 1987 as a general assignment reporter. He also worked as a political reporter in the Tribune's Tallahassee bureau and a copy desk editor. From 1994 to 1999, he was the Tribune's night metro editor. He left the paper in August 1999 to write full time.
Tim has since published 14 novels in several languages: FLORIDA ROADKILL, HAMMERHEAD RANCH MOTEL, ORANGE CRUSH, TRIGGERFISH TWIST, THE STINGRAY SHUFFLE, CADILLAC BEACH, TORPEDO JUICE, THE BIG BAMBOO, HURRICANE PUNCH, ATOMIC LOBSTER, NUCLEAR JELLYFISH, GATOR A-GO-GO, ELECTRIC BARRACUDA and WHEN ELVES ATTACK.
He lives in Tampa with his family.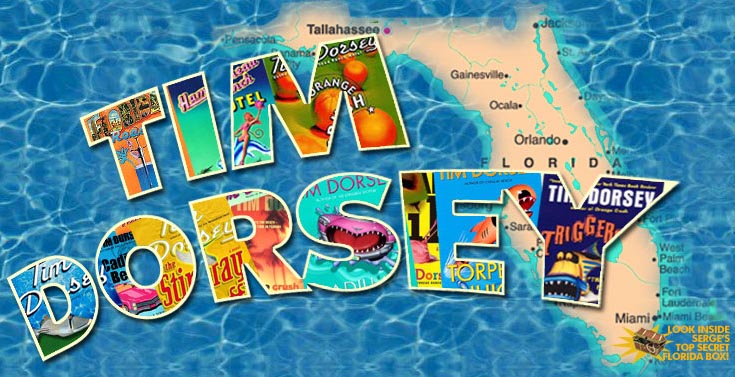 OTHER BOOKS BY TIM DORSEY:
MY THOUGHTS/REVIEW:
PINEAPPLE GRENADE by Tim Dorsey brings everyone's favorite serial killer, Serge Storms, back in action. However, this time instead of killing people, he tries his hand at the international spy business to protect people. He is supposed to guard the president of a country in Latin American who they think might be in danger during an international conference held in Miami. With Serge is his wacky partner-in-crime, Coleman, who is the opposite of Serge's somewhat somber, sober self. Coleman is an out there, harmless, drug happy, beer drinking but loyal friend. Together they are going to try to keep things calm and people safe. Now this doesn't include those who are in his sites for breaking the law like car thieves. Also in this latest, most thrilling to date, Dorsey novel, Serge has a love interest. Fans will love that new addition. I found Dorsey's narrative, PINEAPPLE GRENADE, funnier than ever but also really exciting. His talented writing keeps the reader turning pages and enjoying every minute of it.
I was lucky enough to again hear Tim Dorsey speak recently as he toured the state with his new book, characteristic of Dorsey's normal promotions. The crowd was bigger than ever and as always came in their flowered shirts, some with hibiscus in their hair, or pelicans, gators, or flamingos decorating their outfits. This Jimmy Buffett-like fan club is crazy for the author and knows his books and characters almost better than Dorsey. He not only gives them news on his latest hit, PINEAPPLE GRENADE, but adds his brand of humor to make an almost stand up comedian-like presentation, and they love it! So did I! Attending one of Tim Dorsey's "lectures" will enable anyone who is planning a trip to Florida to certainly know more about how to get around and some interesting history and places to go as he surely does his research. I guess I would have been wise to buy one of the "Serge" shirts Dorsey sells from the trunk of his own big gas guzzling muscle car after his appearance but am sure they will still be available next time around and for sure on his website HERE. If you want a good time and well written mystery, give PINEAPPLE GRENADE a try. That is if all Dorsey's ardent fans haven't bought them all. Enjoy!
GIVEAWAY
THANKS TO THE WILLIAM MORROW GROUP
WITH HARPER COLLINS, I HAVE ONE NEW COPY
OF BEST SELLER TIM DORSEY'S NEWEST BOOK,
PINEAPPLE GRENADE, TO GIVE AWAY

-

-U.S. RESIDENTS ONLY

--NO P. O. BOXES
---INCLUDE YOUR EMAIL ADDRESS
IN CASE YOU WIN!
--ALL COMMENTS

MUST BE SEPARATE

TO
COUNT AS MORE THAN ONE

!

HOW TO ENTER:
+1 ENTRY:
COMMENT ON SOMETHING YOU FOUND INTERESTING FROM AUTHOR TIM DORSEY'S
"FUN STUFF"
PAGE ON THE HARPER COLLINS WEBSITE ABOUT HIM
HERE
+1 MORE ENTRY:
GO TO
TIM DORSEY'S WEBSITE
HERE
AND COMMENT ON ONE OF HIS BOOKS YOU'D LIKE TO READ, OR HAVE READ, (OTHER THAN
PINEAPPLE GRENADE
), OR ABOUT SOMETHING ELSE YOU FIND INTERESTING ON HIS SITE AS THERE IS SO MUCH TO ENJOY!
+1 MORE ENTRY:
COMMENT AND TELL IF YOU HAVE EVER BEEN TO TIM DORSEY'S BELOVED FLORIDA AND IF SO WHAT PART. IF YOU LIVE HERE, LIKE I DO, THEN TELL ME WHAT PART OF FLORIDA YOU LIKE THE BEST.
+1 MORE ENTRY:
BLOG AND/OR TWEET ABOUT THIS GIVEAWAY AND COME BACK HERE WITH THE LINK THAT I CAN FOLLOW.
GOOD

LUCK