THANK YOU LOYAL
FOLLOWERS WHO READ
TO THE END! GO TO THE
BOTTOM TO SEE
WHO WON THIS
"SECRET GIVEAWAY"!

E
V
E
R
Y
D
A
Y
A
S
T
R
O
L
O
G
Y
"HOW TO MAKE ASTROLOGY WORK FOR YOU"


BY GARY GOLDSCHNEIDER




ABOUT THE BOOK:
With nearly two million copies in print, Gary Goldschneider's Secret Language of Birthdays and Secret Language of Relationships are mainstays of any bookstore astrology section. Now the best-selling author has returned with his biggest and most ambitious work yet: Gary Goldschneider's Everyday Astrology.
Here is detailed and comprehensive advice for handling everyone in your life-and we mean everyone: parents, children, siblings, coworkers, employees, lovers, spouses, exes, and more. Whether you're wooing a Gemini first date, asking a Virgo boss for a raise, or persuading your Pisces roommate to do the dishes, Gary Goldschneider's Everyday Astrology offers advice for any situation imaginable. Once you start paging through this book, you'll find it impossible to stop!
ABOUT THE AUTHOR:
GARY GOLDSCHNEIDER is an internationally known astrologer and author of several best-selling books including The Secret Language of Birthdays and The Secret Language of Relationships. He has studied astrology for forty years and frequently lectures and writes on the subject. He lives in Amsterdam.
Gary began his extensive career in the public eye with weekly performances on WCAU radio's Children's Hour at the tender age of two. Reciting Keats, Shelley, Wordsworth and other famous poets, he later did scripts and commercials which laid the foundation for public speaking and college lecturing later in life. At seven, he began his piano study with David Sokoloff in Philadelphia. As a concert pianist he has appeared worldwide in recitals, including 12-hour Beethoven marathon concerts in which he performs all 32 piano sonatas of this great composer. Gary is the father of seven children, and his wife Berthe Meijer and he live in Amstelveen, Netherlands. Gary is internationally known as the bestselling author of The Secret Language of Birthdays, The Secret Language of Relationships, and the Secret Language of Destiny. This trilogy derives from his training in psychiatry and medicine at Yale University, his background in English Literature (B.A., M.A. University of Pennsylvania), his forty-year study of astrology, and his experiences living and working with spiritual groups in California and New Zealand.
SIGNS OF THE ZODIAC
The Zodiac is made up of 12 different sun signs. Your date of birth determines which one you are.

Aries
-
March 21 - April 20
Taurus
- April 21 - May 21
Gemini
- May 22 - June 21
Cancer
- June 22 - July 22
Leo
- July 23 -August 21
Virgo
- August 22 - September 23
Libra
- September 24 - October 23
Scorpio
- October 24 - November 22
Sagittarius
- November 23 - December 22
Capricorn
- December 23 - January 20
Aquarius
- January 21 - February 19
Pisces
- February 20- March 20
MY REVIEW:

EVERYDAY ASTROLOGY is a wonderful book. Whether you believe in astrology or put any faith into it, you will find that this is an extremely interesting book. It is every day, simple advice for interacting with all kinds of people no matter what astrological sign they were born under. Each of the signs is looked at in three ways. It looks at them according to work, love, and friends and family. It further breaks each down into kinds of people you deal with in each of these three areas. One chapter tells all about how to recognize people's signs.Varying situations are looked at with everything from how to ask a boss for a raise to surviving the holidays to breaking up with your girlfriend...all depending on what their sign is.

The best part of this book and why I think people will like it is because of the writing. It is written in an easy narrative way with understandable vocabulary and great organization. Sections are given headings to make its organization a key to the reason that makes this book work. I found it enjoyable and easy to follow. The different examples given are entertaining as well as informative. It accomplishes its goal of helping the reader to deal with people in their own way. It will act as a reference source to help people in their everyday lives in practical ways and because it is so easy to use, I would think they would use it quite often.

In closing, and in relationship to whether there will be a giveaway of my copy or not, I'm sorry to say, there won't. I said that we needed two hundred comments and we didn't get that. However, in what I hope is a great recommendation for you to go out and buy your own copy, I am selfishly GLAD I get to keep the review copy I was sent, as I think it was good and will probably refer to it often.


MY BIRTHDAY---LIBRA

Traditional
Libra Traits

Diplomatic and urbane
Romantic and charming
Easygoing and sociable
Idealistic and peaceable

On the dark side...

Indecisive and changeable
Gullible and easily influenced
Flirtatious and self-indulgent
WHO ME??

HAPPY BIRTHDAY TO ME!
I REALLY DON'T HAVE A COPY
TO GIVEAWAY....BUT!!!!....


I THINK SINCE I HAVE
SUCH GREAT BLOG FRIENDS,
I AM GOING TO DO A

SECRET


BIRTHDAY GIFT GIVEAWAY!
THAT MEANS NO HEADER SAYING
GIVEAWAY SO ONLY LOYAL
READERS WILL GET THIS FAR!

I MUCH PREFER GIVING AWAY
THINGS, AS YOU CAN TELL, THAN
GETTING THEM...SO I AM GOING
TO GIVE AWAY MY VERY GENTLY READ,
LOOKS BRAND NEW, WORTH $24.95
COPY TO ONE LUCKY, LOYAL FOLLOWER!



RULES:


---U.S. RESIDENTS ONLY
---NO P. O. BOXES, PLEASE
---EMAIL ADDY MUST BE IN YOUR
COMMENT SO I DON'T HAVE TO HUNT
---ABSOLUTELY ONLY ONE COMMENT PER
PERSON!
---YOU MUST BE A GOOGLE FRIEND CONNECT
FOLLOWER IN MY LEFT HAND COLUMN AND IT
WOULD BE OK IF YOU JOIN TODAY
---GO TO THIS POST TO SEE ABOUT ALL THE
SIGNS INCLUDING YOURS


HOW TO ENTER:


YOU

MUST

FOLLOW

ALL

THE RULES ABOVE
AND THEN JUST COMMENT AND TELL ME
YOUR SIGN AND IF YA' WANT TO SAY HAPPY
BIRTHDAY, THAT WOULD BE FUN BUT NOT
NECESSARY....IT WOULD BE LIKE MY
HAVING A PARTY---AND AS CLOSE AS I
WILL BE TO HAVING ONE!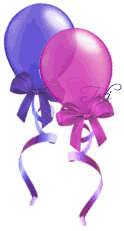 ENTRIES MUST BE IN BY MIDNIGHT , EST,
TONIGHT, SUNDAY, SEPTEMBER 27, AND
THE WINNER WILL BE ANNOUNCED
TOMORROW...IT IS MY GIFT TO YOU!
^^^^^^^^^^^^^^^^^^^^^^^^^^^^^^

Here is the winner:
# 8 Neas Nuttiness
Random Sequence Generator
Here is your sequence:
 8  10
7   4
17  11
19  13
3  18
12   6
2  22
1  20
21  15
16   9
5  14

Timestamp: 2009-09-28 05:49:45 UTC
Neas Nuttiness has been emailed
and has until noon on Tuesay to
get back to me