GIVEAWAY ENDED


TO DESIRE A DEVIL
BLOG TOUR AND GIVEAWAY
BY ELIZABETH HOYT


ABOUT THE BOOK:
Reynaud St. Aubyn has spent the last seven years in hellish captivity. Now half mad with fever he bursts into his ancestral home and demands his due. Can this wild-looking man truly be the last earl's heir, thought murdered by Indians years ago?
Beatrice Corning, the niece of the present earl, is a proper English miss. But she has a secret: No real man has ever excited her more than the handsome youth in the portrait in her uncle's home. Suddenly, that very man is here, in the flesh-and luring her into his bed.
Only Beatrice can see past Reynaud's savagery to the noble man inside. For his part, Reynaud is drawn to this lovely lady, even as he is suspicious of her loyalty to her uncle. But can Beatrice's love tame a man who will stop at nothing to regain his title-even if it means sacrificing her innocence?
ABOUT THE AUTHOR:
Elizabeth Hoyt
is a
USA Today
bestselling author of historical romance. She also writes deliciously fun contemporary romance under the name Julia Harper. Elizabeth lives in central Illinois with three untrained dogs, two angelic but bickering children, and one long-suffering husband. Please visit her websites for chapter excerpts, book extras, and author appearances:
www.elizabethhoyt.com
and
www.juliaharper.com
.
AUTHOR INTERVIEW:
Here is a little background on Elizabeth Hoyt before I start the Interview questions.

Elizabeth Hoyt
was born in New Orleans, where her mother's family has lived for generations, but she was raised in the frigid winters of St. Paul, Minnesota. Growing up, her family traveled extensively in Britain, spending a summer in St. Andrews, Scotland, and a year in Oxford. She earned a bachelor of arts degree in anthropology at the University of Wisconsin, Madison. Wisconsin was also where she met her archaeologist husband--on a dig in a cornfield. Continuing the cornfield theme, Elizabeth and her husband live in central Illinois with their two children and three dogs. She is an avid gardener with over 26 varieties of daylilies in her multiple gardens and more hostas than any one person can count. The Hoyt family enjoys taking family vacations that invariably end up at an archaeological site.
Her websites are:
www.elizabethhoyt.com
and
www.juliaharper.com
What is the next or current book that you are working on?
Right now I'm working on
Wicked Intentions
, the first of a new series called the
Maiden Lane
series.
Wicked Intentions
is set in Georgian London during the time when gin was very cheap and sold everywhere, creating a terrible addiction problem for the poor of London. The hero, Lazarus Huntington, Lord Caire, is a rake searching in the East End for the man who murdered his mistress. But he needs the help of Temperance Dews, a widow running a foundling home in St. Giles. Temperance agrees to help Lazarus if in exchange he'll take her to society balls so she can find a patron for her home. But both Lazarus and Temperance are hiding secrets.
Wicked Intentions
will be out in Summer of 2010.
What have you just finished reading?
I just read an arc of Jennifer Haymore's next book,
A Touch of Scandal
and enjoyed it very much!
What books would you say have made the biggest impression on you, especially starting out?
Amanda Quick's
Mistress
was one of the first "new" historicals that I read. The heroine was smart and funny, the hero was dark and scarred without being psychotic and I finished the book feeling satisfied and happy.
Lisa Kleypas's
Someone to Watch Over Me
(which has just been re-released!) has a working-class Bow Street Runner hero who is incredibly sexy and a tragic heroine and the love story is
intense
. I read that book in one sitting and then read it again immediately.
Stephanie Lauren's
Devil's Bride
took all the Regency standards and completely refreshed them while bringing her own strong historical voice to the genre.


What gets you started on a new book? A character or story idea or….?
I always start with the characters—the hero and heroine—and what their life is like, what their dreams are, what motivates them. The story usually flows naturally from them.
What is something about you that you would want people to know about you that we probably don't know?
I love Indian food. ;-)


What is your best advice to anyone, including young people, who want to be writers?
Writers learn by writing, so it's very important to write as often as possible, preferably every day. You'd think that was obvious, but I know a lot of would-be writers who spend more time thinking about, talking about, and planning to write than actually writing.


What is something you would like to share with us about writing your favorite genre in general?
I don't think I'll ever get tired writing romances because I'm writing about characters and I find people endlessly fascinating. In each book I discover a kernel of truth about the human condition—which sounds rather pompous, but it's true. ;-) I love writing romance books.

Many thanks to Elizabeth for the interview. Be sure and check out the other tour spots below...and now for the giveaway!


GIVEAWAY:


THANKS TO ANNA AND THE
HACHETTE BOOK GROUP, I HAVE
5 COPIES OF THIS EXCITING BOOK
TO GIVE AWAY. HERE IS WHAT YOU
NEED TO DO TO WIN A COPY!
RULES:
--U.S. AND CANADIAN RESIDENTS ONLY
--NO P. O. BOXES
---INCLUDE YOUR EMAIL ADDRESS
IN CASE YOU WIN!
--ALL COMMENTS MUST BE SEPARATE TO
COUNT AS MORE THAN ONE!
+1 ENTRY:
Comment and name your favorite kind of treat you used to like to get in your Trick or Treat bag...or one you would like that you never got!
+1 MORE ENTRY:
Blog or Tweet about this giveaway and leave link in your comment!
+1 MORE ENTRY:
Follow on Google Connect (see left hand sidebar) or tell me how you do follow
DEADLINE TO ENTER IS
6 PM, EST, NOVEMBER 14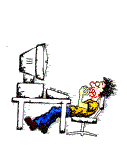 GHOUL LUCK!
http://myoverstuffedbookshelf.blogspot.com/
-
Oct. 30 review, Giveaway
http://reesspace.blogspot.com
–
Oct. 30 Review, Giveaway
http://justanothernewblog.blogspot.com/
-
Oct. 30 Q&A, Giveaway
www.mybookaddictionandmore.wordpress.com
–
Oct. 30 Review, Giveaway,Q&A
http://bookinwithbingo.blogspot.com/
-
Oct. 31 Review, Q&A and Giveaway
http://froggaritavillesbookcase.blogspot.com
–
Nov. 1 Review and Giveaway
http://bridget3420.blogspot.com
–
Nov. 2 Review and Giveaway
http://www.readingwithmonie.com
–
Nov. 3 Q&A and Giveaway
http://imbookingit.wordpress.com/
-
Nov. 4 Review and Giveaway
http://booksoulmates.blogspot.com
–
Nov. 4 Review and Giveaway, Q&A
http://ajourneyofbooks.blogspot.com
–
Nov. 4 Review and Giveaway, Q&A
http://www.findthetimetoread.blogspot.com
–
Nov. 4 Review and Giveaway
http://bookfan-mary.blogspot.com –
Nov. 5 Review and Giveaway
http://seductivemusings.blogspot.com/
-
Nov. 5 Review, Q&A and Giveaway
http://jmomfinds.amoores.com
-
Nov. 6 Q&A and Giveaway
www.libslibrary.blogspot.com
–
Nov. 6 Review and Giveaway
http://dreyslibrary.blogspot.com
–
Nov. 6 Review and Giveaway
http://myreadingroom-crystal.blogspot.com
–
Nov. 10 Review and Giveaway
http://booksoulmates.blogspot.com
–
Nov. 7 Review
http://startingfresh-gaby317.blogspot.com/
-
Nov. 7 Review and Giveaway
http://mandablogsabout.blogspot.com
–
Nov. 8 Review and Giveaway
www.bookwormygirl.blogspot.com
–
Nov. 9 Review and Giveaway
http://annavivian.blogspot.com/
-
Nov. 10 Review and Giveaway
http://www.morbid-romantic.net
-
Nov. 11 Review and Giveaway, Q&A
http://www.eclecticbooklover.com/
-
Nov. 12 Review and Giveaway, Q&A
http://startingfresh-gaby317.blogspot.com
/ -
Nov. 12 Review and Giveaway
http://juniperrbreeeze.blogspot.com/
-
Nov. 12 Review and Giveaway
http://dixie-afewofmyfavoritethings.blogspot.com/
-
Nov. 12 Review