Remember the Fifth of November...
BECAUSE IT IS KAYE'S BIRTHDAY AT
PUDGY PENGUINS PERUSALS
AS WELL AS GUY FAWKES DAY!
So if you light something tonight, be
sure
it is to say
Happy Birthday to Kaye

and go on over and say hi to Pudgy!
HAPPY BIRTHDAY, MY FRIEND!
A secret plan to overthrow the king. A mercenary named Guy Fawkes returning from war abroad. Thirty six barrels of gunpowder. . .
On the night of November 5th, throughout Britain, we commemorate the capture of Guy Fawkes with bonfires and fireworks, and by burning an effigy of Guy.
AM I THE ONLY ONE WHO THINKS

GUY FAWKES SMILES A
LITTLE LIKE
THE PUDGE-MAN?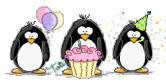 HOPE IT IS A HAPPY, HAPPY DAY!