BUCKLEY'S STORY
BY INGRID KING
MY REVIEW:
Buckley's Story is a lovely book of the relationship between a woman and a cat.. Subtitled LESSONS FROM A FELINE MASTER TEACHER, this tells how Buckley a small cat with a big heart and great personality, meets Ingrid King at an animal hospital in Virginia. Ingrid was an office manager there and this tortoiseshell cat became a love of hers instantly. The year after meeting Buckley, King started her own business doing Reiki for animals and humans and she called it Healing Hands. Buckley was great in the office and King wanted to bring him home but it took some getting used to in order to have a new cat at home when she already had her cat, Amber. Amber had to learn to share her owner with this new cat.

It is only two years later that Buckley was diagnosed with heart disease. In the book, King tells in detail about the diagnosis, treatment, and how she finally had to allow Buckley to go. There is a lot of excellent information to help people with their own cats and hopefully not this problem but if so, all you would need is in this book.

Ingrid is able in the book to let the reader know how she spent her time with Buckley and enjoyed it rather than spending all her time thinking of the impending death. King writes a warm and loving account of the whole story and what transpired and it is sure to capture any one's heart, even if not a pet owner or cat person. It is quite evident that not only do our animals depend on us and love us, but we depend on them and learn a great deal along the way. This was particularly hard for me to read, although so well done and informative, but at the same time, we lost my cousin's dog who has been part of all our family for the past 16 years. I can greatly relate to Ingrid's loss.

GIVEAWAY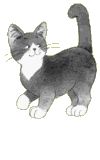 THANKS TO PUMP UP YOUR BOOK

PROMOTIONS FOR A COPY OF

INGRID'S BOOK


BUCKLEY'S STORY
I HAVE ONE COPY OF THIS AMAZINGLY
TOLD STORY TO GIVE AWAY TO A
LUCKY READER. WILL IT BE YOU?
YOU HOPE SO AS INGRID KING WILL
PERSONALLY AUTOGRAPH IT AND
SEND IT TO YOU!

RULES!

--U.S. RESIDENTS ONLY

--NO P. O. BOXES PLEASE
--EMAIL ADDRESS MUST BE INCLUDED
IN YOUR ENTRY
--ALL ENTRIES MUST BE SEPARATE OR
ELSE THEY COUNT ONLY AS ONE!
HOW TO ENTER:
+1 ENTRY:
COMMENT IF YOU HAVE ENTERED ANY OF MY GIVEAWAYS FROM DECEMBER 15th ON, AND TELL ME THE NAME OF ONE (OR MORE, IF YOU LIKE) OF THEM
+1 MORE ENTRY:
GO TO INGRID KING'S WEBSITE FOR BUCKLEY HERE AND READ HER EMOTIONAL POST ON THE ANNIVERSARY OF BUCKLEY'S DEATH. YOU MAY COME BACK AND COMMENT OR JUST TELL ME YOU READ IT...IT IS UP TO YOU (I BET LOTS OF YOU COMMENT ABOUT IT)