GIVEAWAY ENDED
BY OZZY OSBOURNE


AND CHRIS AYRES

ABOUT THE BOOK:
"They've said some crazy things about me over the years. I mean, okay: 'He bit the head off a bat.' Yes. 'He bit the head off a dove.' Yes. But then you hear things like, 'Ozzy went to the show last night, but he wouldn't perform until he'd killed fifteen puppies . . .' Now me, kill fifteen puppies? I love puppies. I've got eighteen of the f***ing things at home. I've killed a few cows in my time, mind you. And the chickens. I shot the chickens in my house that night.

It haunts me, all this crazy stuff. Every day of my life has been an event. I took lethal combinations of booze and drugs for thirty f***ing years. I survived a direct hit by a plane, suicidal overdoses, STDs. I've been accused of attempted murder. Then I almost died while riding over a bump on a quad bike at f***ing two miles per hour.

People ask me how come I'm still alive, and I don't know what to say. When I was growing up, if you'd have put me up against a wall with the other kids from my street and asked me which one of us was gonna make it to the age of sixty, which one of us would end up with five kids and four grandkids and houses in Buckinghamshire and Beverly Hills, I wouldn't have put money on me, no f***ing way. But here I am: ready to tell my story, in my own words, for the first time.

A lot of it ain't gonna be pretty. I've done some bad things in my time. I've always been drawn to the dark side, me. But I ain't the devil. I'm just John Osbourne: a working-class kid from Aston, who quit his job in the factory and went looking for a good time."
ABOUT THE AUTHOR:
Ozzy Osbourne was born in Aston, Birmingham, in 1948. He has sold over a hundred million records both with Black Sabbath and as an award-winning solo artist. He has five children and lives with his wife, Sharon, in California and Buckinghamshire.

REVIEW:
Let me assure you that you don't have to ever have listened to Black Sabbath or watched "The Osbournes" on television to read and enjoy this memoir about Ozzy Osbourne. It is as you would suspect from the man, a tough and honest telling of how the Prince of Darkness was a boy who came from a working class family, is dyslexic and doesn't read well, to be a rock star millionaire who has had a grand time getting there! And along the way, there is the hard to believe love story between Ozzy and Sharon and a family that he adores!

One of the best things about this book and probably why I couldn't put it down is that Ozzy's story is told with the authenticity and hilarity we would expect from the man who long ago gave up any chance at dignity. He lives up to his "what-me-worry" lifestyle of surviving no matter what life throws at him and doesn't hide it. Perhaps that is why he is so endearing to people who as I said, never heard his music or watched his show until lately. However, they did more recently see the loving husband standing by his wife steadfastly when she battled cancer, and the father's pride in watching his little punk girl Kelly turn into a lady on "Dancing with the Stars" as she became America's sweetheart for those weeks she was on the show.

You will of course read about the real stories behind all the things you may have heard about over the years about bats, doves, and chickens. But you will also read about Ozzy's fears and mistakes, his triumphs and pride, and his amazing ability to still be alive even after all the drugs and alcohol he has taken in over the years. Ozzy has a great sense of humor and doesn't hold back, in case you couldn't tell from watching him, and tells it like it is even including his fall from the top of the rock world and reemergence as a new Ozzy Osbourne, television star and now author!

The book must have been tape recorded as there is no way Ozzy wrote all this but, in fact, the book is filled with his words because they bring out the unique man that he is. Ozzy takes his music seriously and the parts about the band are extremely interesting including the members he describes and managers, especially showing that there was no love lost for many including Don Arden, who by the way, was Sharon's dad.

The book is entertaining from beginning to end and a quick read. Although his sense of humor runs throughout the memoir, there are parts that are really dark, and the stories he is famous for are fun to hear about from Ozzy himself. There are so many photos and that makes the book even better as they are scattered throughout.

I MUST say that there are some readers who might find the language and some of the scenes to be offensive and will caution you of that. However, in order to be true to his story and himself, Ozzy includes and tells it like it is. Personally, I was old enough to be around during the time Black Sabbath was at its height and although it wasn't the music I was listening to, I did hear the stories and know about this crazy lead singer named Ozzy. But that Ozzy and the one I have come to know in the past few years and now especially with the book are far different in my mind and for some strange reason, he is rather endearing in many ways. You may not agree but you will have to read the book to see for yourself. I can say, for me, it was a good time and lots of laughs!

GIVEAWAY

THANKS TO KELLY AND THE

HACHETTE BOOK GROUP,
I
HAVE FIVE COPIES OF THIS

ENTERTAINING BOOK TO GIVEAWAY!
THE RULES:


--U.S. AND CANADIAN RESIDENTS ONLY

--NO P. O. BOXES, PLEASE

--INCLUDE EMAIL ADDRESS IN COMMENT
--ALL ENTRIES/COMMENTS MUST BE
SEPARATE IN ORDER TO COUNT
AS MORE THAN ONE ENTRY

HOW TO ENTER:
+1 ENTRY:
GO TO AUTHOR OZZY OSBOURNE'S WEBSITE HERE AND FIND OUT MORE ABOUT HIM. COME BACK AND TELL ME SOMETHING INTERESTING YOU FOUND OUT ON THE WEBSITE
.
+1 MORE ENTRY:
TELL ME IF YOU FOLLOW MY BLOG AND HOW. I HOPE YOU FOUND IN THE LEFT COLUMN THAT I HAVE ADDED A WAY SO YOU CAN SUBSCRIBE VIA EMAIL NOW!
+1 MORE ENTRY:
BLOG OR TWEET ABOUT THIS GIVEAWAY AND LEAVE A LINK I CAN FOLLOW IN THE ENTRY
GIVEAWAY ENDS AT
6 PM, EST, FEBRUARY 20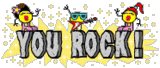 GOOD LUCK!