SPEEDY SPEED WEEKS
TRIPLE GIVEAWAY
CLICK HERE!
GIVEAWAY ENDED


RACING HEARTS
BY VICKI LEWIS THOMPSON,
NANCY WARREN, DORIEN KELLY


ABOUT THE BOOK:(3 Novellas in One)
"A CALCULATED RISK"

She's plotted the course
Car chief Roni Kenway has a plan. She'll save her racing team and (hopefully) convince her crew chief, Judd Timmons, that she's the perfect mix of business and pleasure. But will she coast down Victory Lane…or crash into the wall?


"AN OUTSIDE CHANCE"

She's in Daytona

Haunted by a sadistic book about last-chance love, Lucy Vanderwal hopes a trip to Daytona will end with love. But when she discovers her "last chance" guy is a lemon, Lucy meets rookie driver Sawyer Patton…and learns even a late starter can be a winner!


"THIS TIME AROUND"

And she's behind the wheel!

Driver Megan Carter just got back from a dream vacation—sun, sand and a sizzling fling with Chris Donahue. Now all she needs is to prove herself on the race track. But how can she do that when Chris turns up in her garage—in her real life—and says he's there to stay?
Arizona author Vicki Lewis Thompson's natural element is heat. Her first publishing success while still in pigtails was a weather rhyme for the local newspaper:
The sky is blue, but I am not. I love the sun, I love the hot.
Small wonder that some years later Vicki sold her first romance to Harlequin's steamy Temptation line. After writing more than fifty books, the bestselling author still gravitates toward the heat, including Temptation's popular Blaze imprint. Besides Temptation, she's published with Superromance, Love & Laughter and Duets. She's also been a featured author in several continuity series and anthologies. A finalist numerous times for Romance Writers of America's RITA award, Vicki has won the Desert Rose's Golden Quill Award and has been honored by Romantic Times and Affaire de Coeur.
Prior to selling her first book to Harlequin and finding her bliss, Vicki tried on other careers for size. Teaching English proved too restrictive when she discovered she didn't like being trapped in a classroom any more than the students did. Journalism seemed like a better idea, except that she kept getting assigned to scary stories like rattlesnake milking or parachute jumping.
Finally, her husband suggested she write a romance, which she took as a fine testimonial to their life together. Even better, the career was a perfect fit. Writing romances provides freedom from a schedule without fear of imminent death.
Besides writing, which she's quite passionate about, Vicki's favorite activities are traveling and laughing. Marriage to her indomitable husband, He Who Journeys Without a Map, has provided ample doses of both. Now that the kids are grown and Vicki has a laptop, she's finally positioned to combine all three of her passions. The trip has just begun!
Nancy Warren is the
USA TODAY
bestselling author of more than twenty sexy, humorous novels and novellas for Harlequin and Kensington publishers. She got her big break in 2000 when she won the Harlequin Blaze Contest (unpublished category) and her first sale was a three-book contract — one for the Blaze line, one for the Temptation series and one for the Duets series. Nancy has won many awards for her writing, including the
Romantic Times
Reviewer's Choice Award for Best Blaze of 2002 and the Laurel Wreath. In 2004 she was a double Rita Award finalist. Nancy holds an honors degree in English literature and lives in the Pacific Northwest where she spends a lot of time daydreaming about gorgeous men, and women who are a lot more adventurous than she. When not writing, she is usually out walking her border collie in the rain, or twisted into some bizarre yoga shape. For more, including contests, articles and other fun stuff, please visit http://www.nancywarren.net.
Once she accepted that she'd never be a jockey, Dorien decided she'd be a writer when she grew up. She managed to hold this conviction all the way through high school and college. A bachelors degree in English clutched in her hand, Dorien found her first post-college job as a...waitress. Actually, she was a pretty decent waitress, once she put down that diploma and used both hands.
Still, she yearned for more. She read romances for relaxation and often said, "Gee, I'd love to be writing books as wonderful as these."
Dorien and her husband had a big fat chunk of student loans to pay off. It occurred to her that she'd probably make more money as a lawyer than a waitress, so she attended law school. (Let's not focus on the fact that by doing so, she ended up with even more student loans.) It turned out she was a pretty decent lawyer, too. She spent almost a decade trying to enjoy her profession. Dorien put aside the idea of being a writer, but read every romance she could get her hands on.
When raising three children on top of a 60-hour-a-week job began to make her crazy, her husband asked her what she'd really like to be doing.
Insert flashing light bulb, heavenly music, and sight of Dorien smacking her own forehead here.
"I'd like to be a writer," Dorien exclaimed.
"So do it," said her husband.
Fast-forward past a number of false starts, more directed effort, kind critique groups, contest successes, rejections, and revision letters to...
Dorien lives in Michigan with one wise husband, three children who sometimes behave, and two West Highland white terriers named Ceili and Seamus who mercilessly rule the Kelly household. Dorien spends her days writing, doing the laundry, grocery shopping, and running her kids to their billions of after-school activities. She feels that she is the luckiest woman on earth.
REVIEW:
What a better way to round out this special Stock Car Racing 2010 Kick-Off Book Special than a book made up of a delightfully fun set of three novellas with some "don't mess with me" women! With three best selling romantic novelists, RACING HEARTS will get your Valentine's Day and racing season into gear!
"A Calculated Risk" by Vicki Lewis Thompson entertains with Roni Kenway, a female mechanic on the Nomex racing team who wants to get the attention of Judd "Iceman" Timmons, the crew chief. Obviously with a nickname like Iceman, this proves harder that one might think. Getting double takes to see if she has some grease on her face only to realize she is even wearing mascara to get his attention, Roni's goal is to have the valentine of her choice come race day which falls on February 14th this year. But is there enough time and will Roni be able to get noticed as a woman and not just a grease monkey in the garage?
Nancy Warren writes about Lucy Vanderwal, a fashion dresser, who has "An Outside Chance" on a trip to Daytona Beach of finding love. After all, her aunt knows Lucy's biological clock is ticking so gives her a copy of

Last Chance for Love

which encourages her to meet up with an online date. When this date turns out to be a cheat, Lucy "runs" into NASCAR rookie driver Sawyer Patton while jogging and it's start your engines for this romance.


"This Time Around" a romance is meant to be reborn if Chris Donahue has anything to say about it. And so Megan Carter, NASCAR driver, has to not only prove herself on the track but also to her boss who doesn't want her seeing Chris Donahue, let alone going on a romantic vacation with him. And so when she returns, she has her work cut out for her, on the track and personally as she must get her father to change his mind. Her father, just happens to also be her boss.
GIVEAWAY



THANKS TO AUTHOR VICKI
LEWIS THOMPSON THOMPSON,
I HAVE 2 AUTOGRAPHED COPIES
OF THIS BOOK TO GIVE AWAY.


RULES:
--U.S. RESIDENTS ONLY

--NO P. O. BOXES
---INCLUDE YOUR EMAIL ADDRESS
IN CASE YOU WIN!

--ALL COMMENTS MUST BE SEPARATE TO

COUNT AS MORE THAN ONE!


HOW TO ENTER
+1 ENTRY:
COMMENT ON SOMETHING YOU FOUND INTERESTING ABOUT THIS BOOK'S DESCRIPTION OR REVIEW ABOVE
+1 MORE ENTRY:
COMMENT ON SOME OTHER BOOK OF VICKI LEWIS THOMPSON'S YOU HAVE READ, OR WOULD LIKE TO READ, BY VISITING HER WEBSITE HERE
+1 MORE ENTRY:
BLOG OR TWEET ABOUT THIS GIVEAWAY AND THEN COME BACK AND LEAVE A LINK
+1 MORE ENTRY:
COMMENT ON IF YOU FOLLOW MY BLOG AND HOW YOU DO IT.

A SPEEDY SPEED WEEKS
GIVEAWAY ENDS AT
6 PM, EST, FEBRUARY 18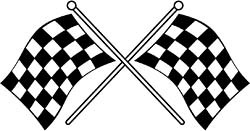 GOOD LUCK!
*************************
REMEMBER!
ONE LUCKY WINNER WILL
WIN A COPY OF ALL THREE
RACING BOOKS I AM GIVING
AWAY OVER THE NEXT TWO
WEEKS IN HONOR OF THE START
OF THE RACING SEASON!
CLICK HERE FOR MORE DETAILS!

WATCH FOR THE COUNTDOWN
TO THE DAYTONA 500 WIDGET TO
IDENTIFY THE QUALIFYING BOOKS!