WATCH FOR THIS COUNTDOWN CLOCK!
WHEN YOU SEE IT, IT IS A RACING
THEMED BOOK YOU CAN WIN IN MY
SPEEDY SPEED WEEKS GIVEAWAYS!


GIVEAWAY ENDED


I HAVE THREE RACING THEMED BOOKS
THAT ARE BEING OFFERED TODAY AND
TOMORROW BECAUSE THIS IS RACE WEEK
WHERE I LIVE IN DAYTONA BEACH, FL!


YOU CAN ENTER TO WIN ALL THREE BOOKS

WHEN THEY ARE POSTED!
YOU MIGHT WIN ALL THREE IF YOU ARE VERY LUCKY!
OR

YOU CAN ENTER HERE AND IF YOUR NUMBER COMES UP, YOU

DO WIN

ALL THREE BOOKS AUTOMATICALLY!
YOU

STILL SHOULD ENTER

THE INDIVIDUAL POSTS IN CASE YOU AREN'T THE BIG WINNER HERE FOR ALL THREE, YOU WOULD THEN HAVE SECOND CHANCES AT WINNING ONE OR MORE!
SO IMPROVE YOUR CHANCES BY
COMMENTING HERE AND YOU ARE
THEN ELIGIBLE FOR THE CHANCE TO
WIN ALL THREE BOOKS!



--U.S. AND CANADIAN
RESIDENTS ONLY
--NO P. O. BOXES

---INCLUDE YOUR EMAIL ADDRESS

IN CASE YOU WIN!

--ONLY ONE COMMENT PER PERSON HERE!
--THERE WILL BE ONLY ONE WINNER HERE!

HOW TO ENTER
+1 ENTRY:
COMMENT HERE TO BE ENTERED TO WIN A COPY OF ALL THREE BOOKS ABOVE BY TELLING IF YOU HAVE EVER BEEN TO A CAR RACE AND WHERE, OR NOT. EMAIL ADDRESS

MUST BE

IN THE COMMENT


BE SURE TO ALSO COMMENT ON THE INDIVIDUAL POSTS TO FOLLOW SO YOU HAVE A SECOND CHANCE AT WINNING ONE OF THOSE IF YOU DON'T WIN THEM ALL HERE!
A SPEEDY GIVEAWAY!
GIVEAWAY ENDS AT
6PM, EST, FEBRUARY 18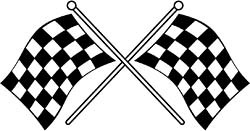 GOOD LUCK!


*************************