SPEEDY SPEED WEEKS
TRIPLE GIVEAWAY
CLICK HERE!

GIVEAWAY ENDED


THE ULTIMATE
NASCAR
INSIDER'S TRACK GUIDE
BY LIZ ALLISON
ABOUT THE BOOK:
With 70 million fans, NASCAR is the #2 spectator sport, after football. But unlike football, going to a race is a full weekend of events. From the tailgating, to the qualifying, to the checkered flag and post-parties--there's enough to fill several days at every event, and that's just at the track.
Liz has maximized her personal connections with NASCAR insiders to determine what NASCAR fans really want to know when visiting the tracks, and gives practical answers to the most frequently asked questions, including:
-- What to do in a medical emergency, and area hospitals with emergency care,
-- Area attractions beyond the track, including popular golf courses where you might just spot your favorite driver between races,
-- Where to find veterinary services for the furry four-legged members of your family, and much more!
From dining, to shopping, to lodging, not to mention what to wear and pack (and what not to) this is a practical guide that no NASCAR fan should be without!
ABOUT THE AUTHOR:
Liz Allison has been a veteran of the speedway for over twenty years as a reporter, fan, wife of late NASCAR driver Davey Allison, and mother. A former television correspondent for NASCAR Sprint Cup events, she is currently the award-winning host of the #1 NASCAR radio show in Nashville and serves as announcer at Nashville Super Speedway events. Liz has also published ten books on the sport, and is a contributing author to numerous race publications.
MY REVIEW:

The Ultimate NASCAR INSIDER'S Track Guide by Liz Allison is a well-organized guide that would be invaluable to any fan who attends NASCAR races. In the opening "Overview" there is general information about what to do before you leave home. Here you will find information on what happens at the track, how to buy tickets and select seats, how to go about getting driver autographs, how to get to souvenir and concession stands, and even what to wear on race day. If you have children, it includes information on how to plan your trip with them in mind.

Allison then goes on to provide details of more than twenty NASCAR race tracks including maps of the track and its facilities, and where they are located around the country. For each track she provides listings for places to stay and eat, as well as attractions in the area even including churches. She also tells the reader about the thirty-eight weekends during the year when NASCAR races are going on. As the fans, crews, and drivers, descend on cities, this guide is invaluable as it even explains how a yellow caution flag is a warning for drivers AND fans, to beware of ticket scalpers, and even some good tips on restrooms. She has indeed done her homework and if I were heading to a race, this would be the "don't leave home without it" item!

I am excited to also have a

Guest Reviewer

with her take on this book. With a background in journalism and having been the NASCAR Public Relations Director (first female I might add back when women were rarely even in the pits let alone in a car driving), Alex Leras is a more than qualified reviewer. She traveled to every race for years in her capacity for NASCAR and then later in charge of media for the well known, fan favorite, NASCAR CHAMPION Driver Bill "Awesome Bill from Dawsonville" Elliott, and one of racing legendary families when she also represented P. J. and Page Jones of the Parnelli Jones racing family. Talk about breaking barriers and cracking the glass ceiling, Alex Leras paved the way for the women you see today working in racing as she did her job in the late 1970s through to mid 1990s. As a resident of Daytona Beach for many years, she literally grew up around racing, as did I. She is my sister and I am so proud and pleased for you to read her review of Liz Allison's book,

The Ultimate NASCAR INSIDER'S TRACK Guide!

(Thanks, Sis!)


GUEST REVIEW:
What a pleasant surprise to read Liz Allison's informative book, "The Ultimate NASCAR Insider's Track Guide". I had known Liz years ago during her marriage to the late Davey Allison and when asked to review her latest work, I was a little apprehensive that it might not be as helpful a tool to the racing fan as it is. I worked in the sport for 20 years from 1975-95 and am familiar with most of the tracks included in her book. As NASCAR's Public Relations Director in the late 70s and early 80s and then media representative for Bill Elliott and both PJ and Page Jones, I travelled to all the venues on the circuit and saw how track operators gradually made their speedways more "family friendly". This included updated and modern facilities for women and children. Liz's book is an excellent guide for the race fan who wants to attend racing events, rather than just watch on television. If you are new to the sport or unfamiliar with a speedway you want to visit, the investment in this book will definitely be worthwhile. Liz gives the reader information about the race track and also the hotels, restaurants, shopping areas, etc., in the area. It's current; it's practical and most importantly, easy to use. One of its most attractive features is the section entitled "Insider Tip" which gives the fan specific information about each track that the reader otherwise might not know. Kudos to Liz and best wishes to her and the entire Allison Family from an old friend....Alexis Leras now retired and living in New England....Alex leras
GIVEAWAY

THANKS TO BRIANNE AND THE
HACHETTE BOOK GROUP, I
HAVE

TEN

(10) COPIES

OF THIS
EXCITING BOOK TO GIVE AWAY!


--U.S. AND CANADIAN RESIDENTS ONLY

--NO P. O. BOXES, PLEASE

--INCLUDE EMAIL ADDRESS IN COMMENT
--ALL ENTRIES/COMMENTS MUST BE
SEPARATE IN ORDER TO COUNT
AS MORE THAN ONE ENTRY

HOW TO ENTER
+1 ENTRY:

COMMENT ON THE REVIEW(S) ABOVE AND HOW THIS BOOK WOULD HELP YOU THE MOST IF YOU WERE TRAVELING TO A RACE.



+1 MORE ENTRY: COMMENT OF SOMETHING OF INTEREST THAT YOU FIND IN THE NASCAR WEBSITE HERE.

+1 MORE ENTRY:
BLOG OR TWEET ABOUT THIS GIVEAWAY AND LEAVE A LINK I CAN FOLLOW IN THE ENTRY


A SPEEDY SPEED WEEKS
GIVEAWAY ENDS AT
6PM, EST, FEBRUARY 18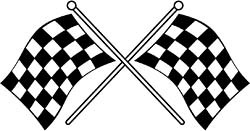 GOOD LUCK!
*************************
REMEMBER!
ONE LUCKY WINNER WILL
WIN A COPY OF ALL THREE
RACING BOOKS I AM GIVING
AWAY OVER THE NEXT TWO
WEEKS IN HONOR OF THE START
OF THE RACING SEASON!
CLICK HERE FOR MORE DETAILS!

WATCH FOR THE COUNTDOWN
TO THE DAYTONA 500 WIDGET TO
IDENTIFY THE QUALIFYING BOOKS!