A

BINGLE

BELLS

BOOK

CHOICE
A GREAT GIFT FOR THE
BOOK LOVER ON YOUR LIST!
GIVEAWAY ENDED


CLEAVING

A STORY OF MARRIAGE,
MEAT, AND OBSESSION
BY JULIE POWELL
AUTHOR OF JULIE & JULIA

ABOUT THE BOOK:

Julie Powell thought cooking her way through Julia Child's
Mastering the Art of French Cooking
was the craziest thing she'd ever do--until she embarked on the voyage recounted in her new memoir, CLEAVING.
Her marriage challenged by an insane, irresistible love affair, Julie decides to leave town and immerse herself in a new obsession: butchery. She finds her way to Fleischer's, a butcher shop where she buries herself in the details of food. She learns how to break down a side of beef and French a rack of ribs--tough, physical work that only sometimes distracts her from thoughts of afternoon trysts.
The camaraderie at Fleischer's leads Julie to search out fellow butchers around the world--from South America to Europe to
Africa
. At the end of her odyssey, she has learned a new art and perhaps even mastered her unruly heart.
ABOUT THE AUTHOR:
I was born and raised in Austin, Texas. After graduating from a northeastern liberal arts college with an incredibly useful double major in theater and fiction writing, I embarked, with husband-to-be Eric in tow, upon a seven-year foray into New York City's dizzying wealth of temp jobs. This enlightening tour of desperate dead-end jobs culminated in a year-long blogging endeavor,
"The Julie/Julia Project,"
which ended in late August of 2003. I now write in my pajamas for a living - long may this career path continue. I live in a "loft" in Long Island City, Queens, with my long-suffering husband, three cats, one snake, and a 110-pound dog named Robert.
I found Julia Child website created by the Smithsonian, both fascinating and
enormously helpful in writing "Julie and Julia." Aside from the usual suspects - chowhound.com, egullet.com, epicurious.com - I'm a regular Salon reader, and a guilty fan of the entire Gawker empire, particularly wonkette.com.
My answer to "what's your favorite read" changes every time I'm asked it, but I can say that as far as cookbook authors, Paul Prudhomme, Andries de Groot and, yes, Nigella Lawson are folks I enormously admire. Elizabeth Gilbert is a fantastic writer as well as a great person, and I look forward to her next book with bated breath. I am in awe of Alice Munro. As a kid I was a bit of a sci-fi and fantasy geek, and read Douglas Adams' Hitchhiker's trilogy on a bi-yearly basis, and was a big fan of Pyrdain Chronicles by Lloyd Alexander.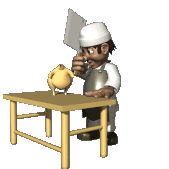 MY REVIEW:

In CLEAVING, quite a bit has changed for Julie. She was so happy having realized her dreams and even thinking about having a family with her husband. She had given Eric credit for much of her success but wasn't feeling that way much any more. Where she had felt her marriage was perfect, she was discovering things weren't quite that simple.

Of course, just because things weren't 100% isn't a reason to start back with your old beau, or does it make it all right for your husband to be out late at night with another woman you know nothing about. In the harsh light of day, she regrets the nights and takes out her stress by deboning chickens and cracking ribs and tearing apart meat. Even though she is not being faithful, she is angry and jealous at Eric's dalliances. I found it still a bit hard to feel too bad for her when she was not treating her husband very well at all.

So of course, something has to be done and she drops her former lover and moves out of her apartment and does some crazy things like stalking the ex before settling on what she wants to do next. She takes on an apprenticeship at a meat market and is really able to tear into some meat with a vengeance. She then goes on what is called a "Grand Meat Tour" where she visits different countries to learn about their butchers and meat recipes. She goes to places like Buenos Aires and visits one of those huge meat markets, the Ukraine where a highlight (?) is her eating raw liver salad, and even to Tanzania where she is almost raped by a cook.

I enjoyed the book and found it easy to read but as much as I wanted to like this second memoir ..and I did but there was just something about it that didn't hit me the right way. Maybe because I didn't feel like she was a victim and had brought a lot of this on herself. Or maybe it is because it was so hard to follow the wonder of JULIE AND JULIA and my expectations were too high. Either way, I still would recommend it as your take on it may be different than mine and like I said, it was enjoyable but just not quite up to what I had hoped for from Powell.
THANKS TO KELLY AND THE

HACHETTE BOOK GROUP, I HAVE

5 COPIES OF THIS EXCITING BOOK

TO GIVE AWAY. HERE IS WHAT YOU

NEED TO DO TO WIN A COPY!

RULES:

--U.S. AND CANADIAN RESIDENTS ONLY
--NO P. O. BOXES
---INCLUDE YOUR EMAIL ADDRESS
IN CASE YOU WIN!
--ALL COMMENTS MUST BE SEPARATE TO
COUNT AS MORE THAN ONE!



+1 ENTRY:
Comment and name your favorite kind of meat and how you like to cook it, or have it cooked. If you are a vegetarian, tell me your favorite protein meal.

+1 MORE ENTRY:
Blog or Tweet about this giveaway and leave link in your comment!
+1 MORE ENTRY:
Follow on Google Connect (see left hand sidebar) or tell me how you do follow
DEADLINE TO ENTER IS
6 PM, EST, DECEMBER 4