SPEEDY SPEED WEEKS
TRIPLE GIVEAWAY
CLICK HERE!
GIVEAWAY ENDED


HE CRASHED ME SO I
CRASHED HIM BACK
BY MARK BECHTEL
"The True Story of the Year the King,
Jaws, Earnhardt, and the Rest of
NASCAR's Feudin', Fightin' Good Ol' Boys
Put Stock Car Racing on the Map
"

ABOUT THE BOOK:
On a cold February day in 1979, when most of the Northeast was snowed in by a blizzard, NASCAR entered the American consciousness with a dramatic telecast of the Daytona 500. It was the first 500-mile race to be broadcast live on national television and featured the heroes and legends of the sport racing on a hallowed track. With one of the wildest finishes in sports history--a finish that was just the start of the drama--everything changed for what is now America's second most popular sport.


HE CRASHED ME SO I CRASHED HIM BACK is the story of an emerging sport trying to find its feet. It's the story of how Bobby Allison, Donnie Allison, Cale Yarborough, Richard Petty, Dale Earnhardt, Darrell Waltrip, A.J. Foyt, and Kyle Petty came together in an unforgettable season that featured the first nationally televised NASCAR races. There were rivalries--even the sibling kind--and plenty of fistfights, feuds, and frenzied finishes. Rollicking and full of larger-than-life characters, HE CRASHED ME SO I CRASHED HIM BACK is the remarkable tale of the birth of modern stock-car racing.
ABOUT THE AUTHOR:
Mark Bechtel covered NASCAR for Sports Illustrated for nine years and is now a senior writer for the magazine. In addition, he wrote the narration for the 2004 movie NASCAR 3-D: The IMAX Experience, a feature film that was aimed at hardcore NASCAR followers as well as newcomers. The movie grossed more than $20 million, making it the most successful IMAX production ever.

MY REVIEW:

Mark Bechtel gives an account of the first televised NASCAR race in 1979. According to the book, the weather was so bad in most of the country that football, hockey, and other major sporting events either weren't on or couldn't be telecast. CBS decided to go ahead and show the Daytona 500 in order to try and keep sports fans happy. Usually, they only showed the highlights of races so most of the country was clueless about the sport.

Of course, this was the famous 500 where names of men that are now legends like Bobby Allison, Richard Petty, David Pearson, and Cale Yarborough were running. At the end of the race a little pushing and bumping took place so on the last lap after the race ended Bobby Allison, Donnie Allison and Cale Yarborough got into a fist fight of sorts. They jumped from their cars and fought right there on the back stretch. This was 1979, remember, and obviously most of the current safety standards and rules that NASCAR has put in place since then were not in use. Many of the people watching from their homes thought it was exciting and so the interest in stock car racing went nation wide that day as opposed to just regional areas.

The book was OK but growing up in Daytona and knowing and following racing my adult life, I found it a little thin on plot. Although Bechtel does go on and tell about that season of racing, I did find that it moved a little slowly for me. This information might be nice for some of the oldest fans who just want to relive that day and the season that followed, or perhaps for younger fans who don't even know these people who put stock car racing on the map and made it into the commercial success it went on to be. However, I have seen some pretty crazy rabid race fans that are hungry for anything to do with racing and NASCAR so it might be of interest to them. For me, I prefer to keep up with the sport today from time to time and remember MY personal experiences in those early years with a bit of nostalgia and a touch of innocence.


My Guest Reviewer

is once again, Alex Leras. She recently reviewed THE ULTIMATE INSIDER'S GUIDE by Liz Allison. You can see her review here

for Liz Allison's guide.
With a background in journalism and having been the NASCAR Public Relations Director, Alex Leras is a more than qualified reviewer

.
In fact, she was NASCAR's Public Relations Director at the time period Mark Bechtel's book is based on and therefore, all information and/or press releases regarding the season's events came from her office. This is one reason I asked her to also take time to review this book. You can read more about her, my sister, here . Thank you, Alex!


GUEST REVIEW:


I read Mark Bechtel's book, "He Crashed Me So I Crashed Him Back", with great anticipation but found myself becoming more and more disappointed as I worked my way through it. There is nothing new in this book and, in fact, I wonder how many of the participants he actually interviewed. Having been personally involved in this watershed 1979 season, at a very high level, I found there was a great deal lacking in his book and what is included can easily be found in the stories written that year as events unfolded. Mr. Bechtel fails to address many of the controversies that were an important part of the season and really does not provide any new details or insights to events. From a personal standpoint, I found that much of his information was incomplete with names of participants being omitted from important meetings and questions about sponsor involvements in decisions being avoided. Granted, some of the figures prominent in that season are deceased but enough of us are still alive and could have contributed to the book. The 1979 season was enormously important in the sport's evolution but Mr. Bechtel's work does not present a complete picture. For the new NASCAR fan, it gives a basic introduction to the season that launched its increased fan appeal and perhaps may lead the reader to seek more detailed information but for those of us who lived it, there was much more to the story.
GIVEAWAY

THANKS TO VALERIE AND THE

HACHETTE BOOK GROUP, I

HAVE FIVE
COPIES OF THIS

RACING BOOK TO GIVE AWAY!

--U.S. AND CANADIAN RESIDENTS ONLY

--NO P. O. BOXES, PLEASE

--INCLUDE EMAIL ADDRESS IN COMMENT
--ALL ENTRIES/COMMENTS MUST BE
SEPARATE IN ORDER TO COUNT
AS MORE THAN ONE ENTRY

HOW TO ENTER
+1 ENTRY:
COMMENT ON THE REVIEW(S) ABOVE AND WHAT QUESTION YOU WOULD WANT TO ASK THE AUTHOR IF YOU COULD.
+1 MORE ENTRY:
COMMENT ON SOMETHING OF INTEREST THAT YOU FIND IN THE NASCAR WEBSITE HERE.
+1 MORE ENTRY:
BLOG OR TWEET ABOUT THIS GIVEAWAY AND LEAVE
A LINK I CAN FOLLOW IN THE ENTRY

A SPEEDY SPEED WEEKS
GIVEAWAY ENDS AT
6 PM, EST, FEBRUARY 18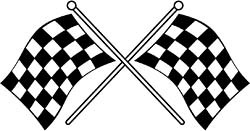 GOOD LUCK!

*************************
REMEMBER!
ONE LUCKY WINNER WILL
WIN A COPY OF ALL THREE
RACING BOOKS I AM GIVING
AWAY OVER THE NEXT TWO
WEEKS IN HONOR OF THE START
OF THE RACING SEASON!
CLICK HERE FOR MORE DETAILS!

WATCH FOR THE COUNTDOWN
TO THE DAYTONA 500 WIDGET TO
IDENTIFY THE QUALIFYING BOOKS!